Thai Week began on Monday, July 7th as the fourth round of the Multicultural Weeks 2008.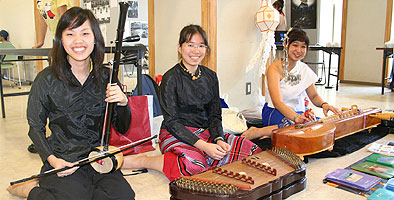 For Thai Week, the APU Cafeteria has been trimmed with Thai decoration and ethnic music is being played. Many are lining up for popular Thai food available for a limited-time only from the ethnic food counter.
238 students whose mother tongue is Thai are currently pursuing their studies at APU. On Wednesday, July 9th, a performance event dubbed the "Mini Show" will be held at the APU Cafeteria. Traditional Thai games, dancing and music will be introduced by Thai student volunteers. On Friday the 11th, there will a final performance introducing Thai dance, songs, fashion and more; the students have been practicing hard for these events. All are welcome to attend.
Thai Week Schedule
July 7(Mon)-9(Wed)
Event: Thai traditional music
Time: 12:00-17:00 (10:00 to 17:00 on the 7th)
Venue: APU Cafeteria
July 9th (Wed)
Event: Thai Games and Show
Time: 12:30-13:00
Venue: APU Cafeteria
Event: Free samples of Thai food
Time: 12:00-15:00
Venue: APU Cafeteria
July 10th (Tue)
Event: Promotion for Thai Week Grand Performance
Time: 12:00-17:00
Venue: APU Cafeteria
July 11th (Fri)
Event: Grand Performance
Time: 18:00-20:00
Venue: APU Millennium Hall
Event: Promotion for Thai Week Grand Performance
Time: 12:00-17:00
Venue: APU Cafeteria