On Thursday October 9, 2008, the APU sponsored "Second Local Networking Meeting with Ambassadors" was held through the cooperation of the Cabinet Office. The site was kindly provided by Pasona Group Inc.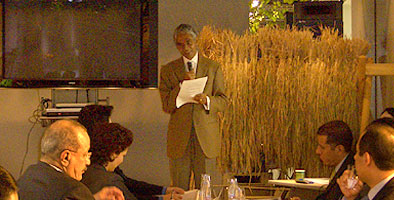 Following the First Local Networking Meeting held in July which greeted Ambassadors from African countries, this meeting welcomed Ambassadors and Representatives from the Middle East and Northern Africa. Many people participated in the meeting starting with 7 Ambassadors and Representatives from the Middle East and Northern Africa, people from the Japan Cooperation Center for the Middle East, and representatives of regional local municipalities.
Following APU President Monte CASSIM's greeting, different ambassadors and representatives gave their opinions on regional activation. At the end, acting Manager of the Cabinet Secretariat Regional Revitalization Bureau, Mr. UENISHI, gave a few words and then the group had a light meal before moving to the mutual exchange meeting. At the exchange meeting, in which everyone seemed in good spirits, they enjoyed local delicacies from the home regions of the participating regional local municipality representatives such as Saga Steak and Miso dumplings.
APU Advisory Committee continually supports APU. The committee is comprised of Japanese leaders in the world of economics and politics and ambassadors to Japan from 76 countries and regions. They offer a lot of support to APU including Ambassadors' lectures for APU students, and providing chances for brilliant students from their countries to study at APU.
The remaining "Local Networking Meeting with Ambassadors to Japan" meetings will be held by next February with the theme of "diplomatic affairs as second track diplomacy, focusing on education and regional activation by local governance."
Through providing a place to exchange for various Ambassadors to Japan, government officials involved in regional activation, and regional local municipalities representatives (who are members of the APU Advisory Committee), APU fulfills an international role as public asset and has been initiating the utilization of such opportunities as a hub for information intended for grass roots level exchange and has been deepening an international cooperation network focusing on regional activation and the nurturing of human resources.