REMIX (REsident organized MIX): Event Planning initiated by Residents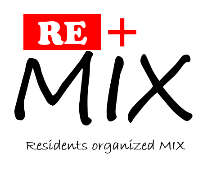 RE-MIX differs from AP House's MIX Program in the respect that RE-MIX events are planned and run by residents themselves. Residents will design and implement events based on 8 dimensions of wellness with the aim of providing opportunities for exchange between residents and the chance for deeper involvement in dormitory management and residential education.
We encourage those who have not ever implemented an event before to take on the challenge. AP House Office will support you with publicity activities and subsidies for your event.
Application Information
Number of events approved per semester
Approximately three
Event applications accepted year-round. (Applications screened in the order received.)
Periods when events are possible
Spring Semester: June 1 (Thurs) ~ August 31 (Thurs)

Fall Semester: November 1 (Weds) ~ February 28 (Weds)
*Excluding the period before final exams when events/activities are prohibited and the final exam period itself.
Eligible applicants & event participants
Students who are residents of AP House 1, 2, or 5 on the day of the event.
Event subsidies
Maximum of 50,000 yen per event
Notes
Please check the "Implementation Guidelines" for items eligible for subsidies and payment.
Payment of the subsidy will be made after the event has been held and all the required documents listed in 『4. Documents』 in the above-mentioned guidelines are approved by AP House Office.
Eligible for STEP
Points will be awarded to residents who implemented an event under this program, as well as to students who participate in the events, as follows:
Core member: 5 points

Non-core member: 2 points

Participant: 1 point
Notes
Only one of the points will be awarded.
Points will only be awarded after implementation, submission of the required documentation to the House Office, and approval.
8 Dimensions of Wellness
RE-MIX is a program that aims to promote self-motivated activities that would raise awareness of wellness and contribute to AP House residents' overall wellbeing. The 8 dimensions of wellness are listed below. Choose the dimension that would be the focus of your event and come up with an event plan.
① Emotional wellness
② Physical wellness
③ Social wellness
④ Occupational wellness
⑤ Financial wellness
⑥ Environmental wellness
⑦ Spiritual wellness
⑧ Intellectual wellness
Planning Your Event
First step is to read and understand the implementation guidelines thoroughly before drafting your event application.
Implementation Guidelines
Event Overview & Purpose
Choose one of the 4 categories shown above and provide a detailed explanation of your event.
Goals・Objectives・Outcomes
Clearly define the goals, objectives, and outcomes you hope to achieve through your event.
Event Management Framework
Possible to apply on your own (only 1 applicant) or to apply as a team (In case of applying as a team, a team representative must be appointed).
The number of core members including the representative is limited to 3, and the number of non-core members is limited to 10.
Eligible Event Participants & Participant Numbers
Events are open to all AP House residents. It is possible to make the event open to non-residents as well.
Plan your event with a bare minimum of at least 5 participants or more, and limit the maximum number of participants to ensure the event will be well managed and run smoothly.
On-Campus
Off-Campus
Be sure to check in advance that you are able to reserve the off-campus facility you want to use for your event.
Online
Possible to hold a seminar where the guest speaker appears online (someone from outside Oita Prefecture) and the participants gather in one place to listen or hold a completely online event (both the guest speaker and event attendees participate online).
Event Costs
Use of campus and AP House facilities and equipment is free of charge.
⇒ For campus facilities and equipment: "University Facilities & Equipment" on the Student Office website
Think about whether you are able to procure or make any of the things you need for the event yourselves.
If you plan on inviting a speaker/lecturer from either on or off-campus for your event.
⇒ Refer to the "Note on Inviting Lecturers".
It is possible to charge an admission fee or crowdfund, however, your event profits must be equivalent to your event expenses.
Not possible to purchase expensive prizes/participation gifts to attract event participants
⇒Refer to "Note on Prizes and Gifts for Participants".
Event Date
Events cannot be held during the week before the final exam period in addition to the final exam period itself.
Schedule your event for a day that does not overlap with a university sponsored event (Tenku Festival, etc.) or a House Event.
Make sure that the event ends within the time you have reserved the event facility for. (Have a clear idea of the amount of time you will need to run the event and include both the time it will take to set up before the event and clean up afterwards when you reserve the facility.)
Have a plan in case of bad weather: Decide if you will hold the event as planned, postpone it, or change venues and notify event participants.
Event Publicity
It is possible to get the word out about your event by hanging event posters and flyers in AP House kitchens and lobbies, making event announcements at floor meetings, and putting up event announcements on Campus Terminal.
All materials must be submitted to the AP House Office for approval prior to the event.
Safety and Infection Prevention Measures
Insurance coverage is required for participants if you will be holding a sports event or an event that requires participants to be physically active. (The university will handle insurance coverage procedures.)
Have measures in place to be able to appropriately respond to accidents and participants who suddenly become ill during the event in addition to infection prevention measures.
Timeline until completing the event
At least one month before the event date

Application:
Submit required documents to the AP House Office

Application Screening:
APHO contacts you regarding the contents of the application, requests for changes (venue, date, etc.) or an in-person consultation.

After Proposal is Approved:
Making reservations of facilities and equipment
Creating promotional material and decide media of promotion
Creating application
Start preparation for the event program, script, prop production, etc.

Three to two weeks before the event

Start Recruiting Participants:
Promoting the event
Considering items to purchase according to the application status

Two Weeks to ten Days before the event

Close Application:
Once the number of participants is confirmed, determine the contents and number of items to be purchased
For projects requiring insurance coverage, submit a list to the AP House Office at least one week in advance.
Revise the proposal and budget at the time of application and submit the finalized version to the AP House Office

Day of the Event

Setting-up and preparation:
Borrow a room key/equipment
Locate the equipment and items borrowed or brought-in, printed material, etc. in place.
Confirm the overall set-up and do last minute rehearsal.

Door opening:
Check attendance and temperature of participants

Start of the event:
Make any necessary minor adjustments depending on the number of attendees to ensure it runs smoothly

End of the event:
Clean up and leave the venue within the usage time,
Return the equipment/items borrowed to the place where it was borrowed or taken out within the reserved time.

Within One Week after the event

Submission of required documents:
Submit all the required document to the AP House Office
The payment of the amount of subsidy approved will be done only after obtaining approval of AP House Office.
Documents
Please click each document name listed below to download.
* The files are available from the "Implementation Guidelines".
Documents to submit
Mandatory
①
②

Budget Planning Sheet (the file has three different sheets; A, B, and C)

Sheet A: Expense: Items to apply for subsidy*Mandatory
Sheet B: Expenditures: Items to purchase with the group's funding*If applicable
Sheet C: Income*If applicable

③

List of Participants: When you create an application form, please include the necessary items of the list.

④
⑤

Activity Report: you may submit one in form of video/PPT as long as the required items are covered.

⑥

Financial Report: Use the same form as "②Budget Planning Sheet"

⑦

All receipts: Paste the receipts for items you bought for the event on A4 sized paper in the order of the date you bought them and submit them together with the ⑥Financial Report.
⇒ Refer to the "e) Note on How to Submit Receipts and Ryoshu-sho".
If applicable
⑧
⑨

Request for using AP House Facilities: Available at AP House 1 Security Office

⑩

Use of AP House Facility Pledge: Available at AP House 1 Security Office
Inquiries
AP House Office
stugcp@apu.ac.jp
Office Hours:Monday-Friday: 10:00-16:30 (Closed 13:00-14:00)
* Tuesdays: 14:00-16:30