Health Clinic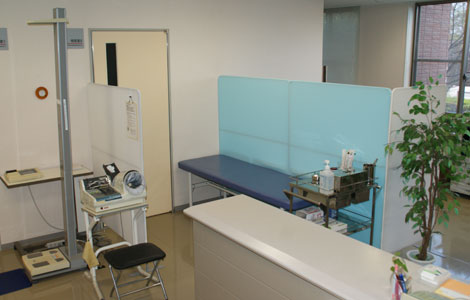 In order to make the most of your life as a student, you will need to keep healthy – both physically and mentally. At the Health Clinic, we not only provide emergency treatment for illness or injuries, but also information on maintaining your health. First year students in particular may find it difficult to adapt to their new life in an unfamiliar place and may fall ill as a result of psychological pressures. Please do not hesitate to visit the Health Clinic if you do not feel well or if you are having any health problems.
Location
The Health Clinic is located on the first floor of Building A, next to the Student Office.
Office hours
10:00 AM to 5:00 PM, Monday through Friday
Services available at the Health Clinic
Emergency treatment* for sudden illnesses or injuries sustained on campus.
Consultation services on any health problems, and referrals to appropriate hospitals or clinics.
Carry out health examinations; explanation of the results.
Check blood pressure, eyesight, body fat content, and perform alcohol patch tests.
Consultations regarding quitting smoking. The Clinic can provide Nicotinell (nicotine) patches for those who wish to use it.
Vaccination consultations for those with plans to travel abroad, including making medical referrals and appointments.
*Emergency treatment refers to the following:
Tending to wounds by applying disinfectants, gauze, or bandages.
Issuing one dose of medication (ONLY over-the-counter medicine) for minor illnesses (eg., colds, headaches, toothaches, abdominal pains, stomachaches, menstrual pains).
Offering repose by providing bed rest for students.
Health Clinic Staff
There are three nurses on duty at the Clinic.
* Because the Clinic does not have a resident physician, they are unable to diagnose illness, prescribe medication, or provide injections.
Using the Health Clinic
Complete a reception form at the counter by providing your student ID number, name, purpose of visit, and submit it to one of the nurses on duty. It is not necessary to present your health insurance certificate, but bring it with you in case you need to go to a hospital for further consultation.
Issuing Health Certificates
If you have taken a health checkup at this University within the last year, the Health Clinic can provide you with a health certificate.
For more information, please refer here.