Common Facilities and Equipment
Common Areas and Facilities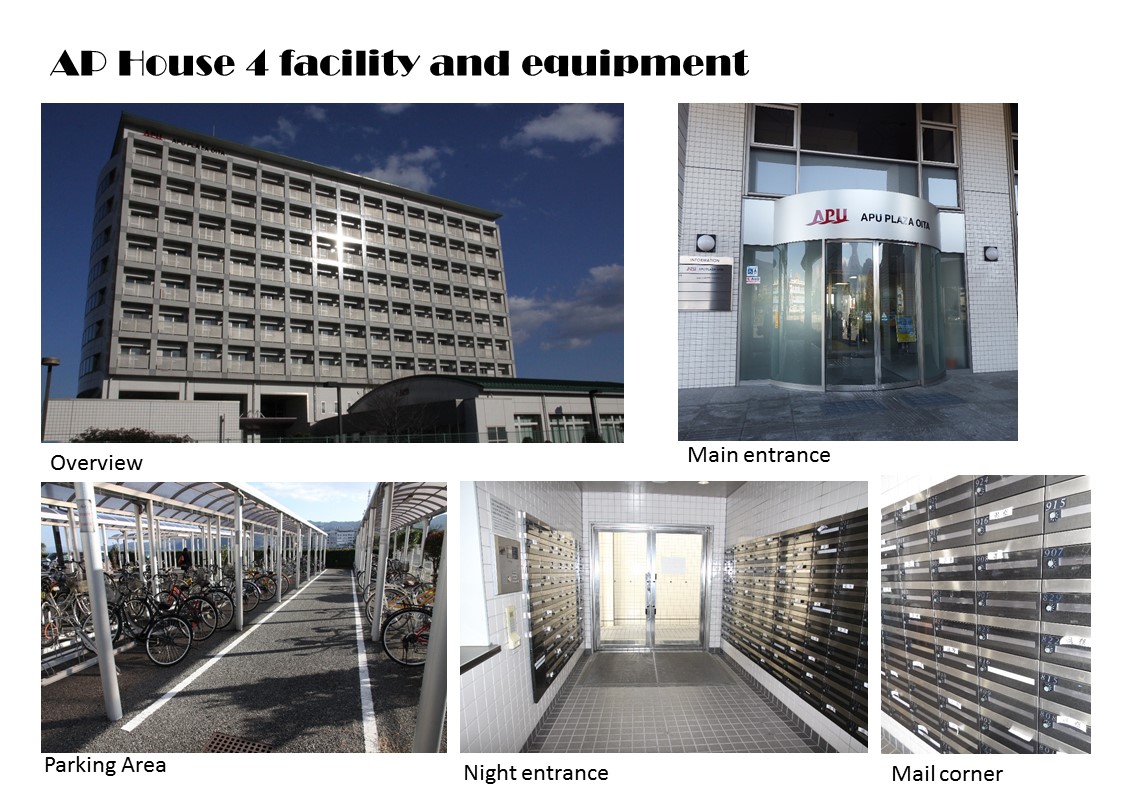 1. Security Office and AP House Office
Security Office

Security officers are in AP House around-the-clock. However, service between 00:00 and 5:30 will be limited to emergency situations.
Carts, vacuum cleaners, bicycle pumps, irons, ironing boards, and futon dryers can be borrowed for up to one hour at a time from the Security Office.(9:00 ~ 22:00)

AP House Office (located at AP House1, 1st floor)

AP House Office is open between 10:00 and 16:30 on Monday, Wednesday, Thursday and Friday, and open from 13:00 to 16:30 on Tuesday. The staff members provide the following services to residents:

Provide consultations about life, problems, and concerns within AP House.
2.Main Entrance
The main entrance door is open from 8:00 to 22:00.
The night entrance door is automatically locked 24 hours a day with access for residents only.
Residents can open the night entrance door by using student ID card.
3.Elevator
When you use the elevator, you should pass your student ID card over a card reader.
4.Internet
Do not disturb the other residents in AP House 4 with your internet virus. It is your responsibility to install an anti-virus program in your PC to prevent from any infection.
5.Communal Kitchens
Communal Kitchens are available for use 24 hours.
Residents who use the communal kitchen must adhere to the following rules:
Be careful not to disturb other residents.
Clean up the communal kitchens after cooking.
Keep all personal belongings, such as cooking and eating utensils and food stuffs, in kitchen box or your own room.
Garbage must be taken your own room and thrown out on garbage disposal day.
No alcohol.
Take special precautions to prevent fires.
* Do not leave the kitchen unattended while using the microwave oven, toaster, or induction cooker. Be sure to check that the switch is turned off after use.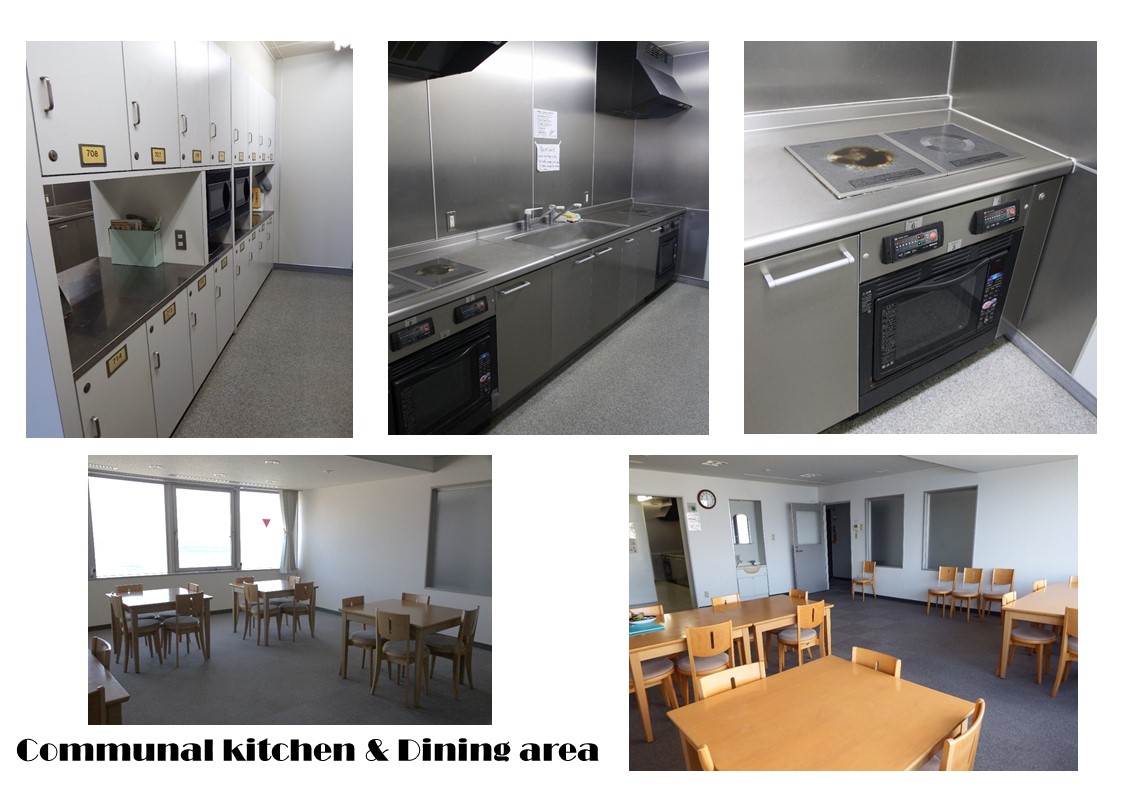 6.Darts (3rd floor lounge) and Table Tennis Facility (4th floor lounge)
Residents who use this facility must adhere to the following rules:
Available time : 9:00~22:00
Apply in advance to use this facility
The dart pins, rackets and balls can be borrowed from the Security Office by using your room key or student ID card.
Close the door while playing darts and the table tennis. (Do not lock the door.)
Non-residents are prohibited to use this facility.
7.Coin Laundry
Coin Laundry is available for use 24 hours.
Do not leave clothes in the laundry room.
8.Entrance and Corridors
Entrances to private rooms and corridors are used for evacuation in case of emergencies. Be sure not to leave personal belongings or garbage in these areas and keep access clear at all times.
9.Mail
A two-digit ID number is necessary to open each mailbox. Only regular postal items are delivered.
Registered Mail (non-express) will be kept in the Security Office. Mail should be collected promptly after receiving a notification of arrival.
10.Parking Areas
Bicycles and motorbikes need to be parked in the designated parking areas and locked. Do not bring bicycles or motorbikes into the AP House buildings.
Please observe the following when using the car park/bike shed
1.

No cars may be driven into or parked in the premises.

2. The residents must not park their cars, motorbikes or bicycles in the street.
The responsibility lies with the residents even if their visitors park their car or motorbike in the street. The residents shall make sure that does not happen.
3.

Each resident is allowed to park either one bicycle or motorbike in the bike shed. Please park your vehicle in the designated place. If you own more than one vehicle, please arrange for additional parking space separately.

4.

We will take no responsibilities for any damage to the bicycles or motorbikes parked in the bike shed due to accidents, thefts or other causes. Please look after your own vehicle.
Moterbikes:
Moterbikes must be registered with the University. Registration procedures for motorbikes are completed at the Central Security Office in Building A on campus and the issued parking sticker must be affixed to the registered motorbike.
11.Garbage
Separate garbage into the following four types and put them into the plastic bags designated by the local government.
Please buy your own trash bags.
1. Burnable: Green designated bag
For plastic containers, plastic lids, polystyrene containers, aluminum foil, candy wrappers and packages, stuffed toys, oil for deep frying, dirty old clothes.
2. Unburnable: clear designated bag
For plastic products, batteries, light pulps, small household appliances, metal objects and lids, glass, kitchen knives, ceramics, cosmetic containers, containers which contained oil, spray cans.
3. Recyclable: Pink designated bag
For PET bottles, glass bottles, jars, and cans.
Cans and bottles that are dirty or that have food residue left on them go in the Non-Burnable bag.
4. Other:
There are certain types of furniture/appliances that are not collectable as rubbish. If that is the case, please read carefully and follow the specific instructions in the "Points on Waste Disposal and Classification of Recyclable Rubbish"
12. Skateboards and Roller Skates at AP House
Due to the possibility of injuring students and causing damage to the roads or pavement, kick-boarding, roller-skating, skateboarding, using balance scooters, and other such activities are not permitted at AP House.

* Residents are not permitted to play with a ball at AP House.
13.Others
1.

Do not post or distribute any bills/flyers within the premises without permission.

2.

Do not waste resources by leaving the air-conditioner or water tap turned on. The unauthorized use of equipment or machine that may consume a significant amount of electricity or water is also prohibited.

3.

Do not disturb the other residents or neighbors, or do anything that may offend them. Make an effort to greet the other residents and neighbors.

4.

Do not let anyone else stay in your room
Private Rooms
*Please click on the photos to a picture to enlarge it.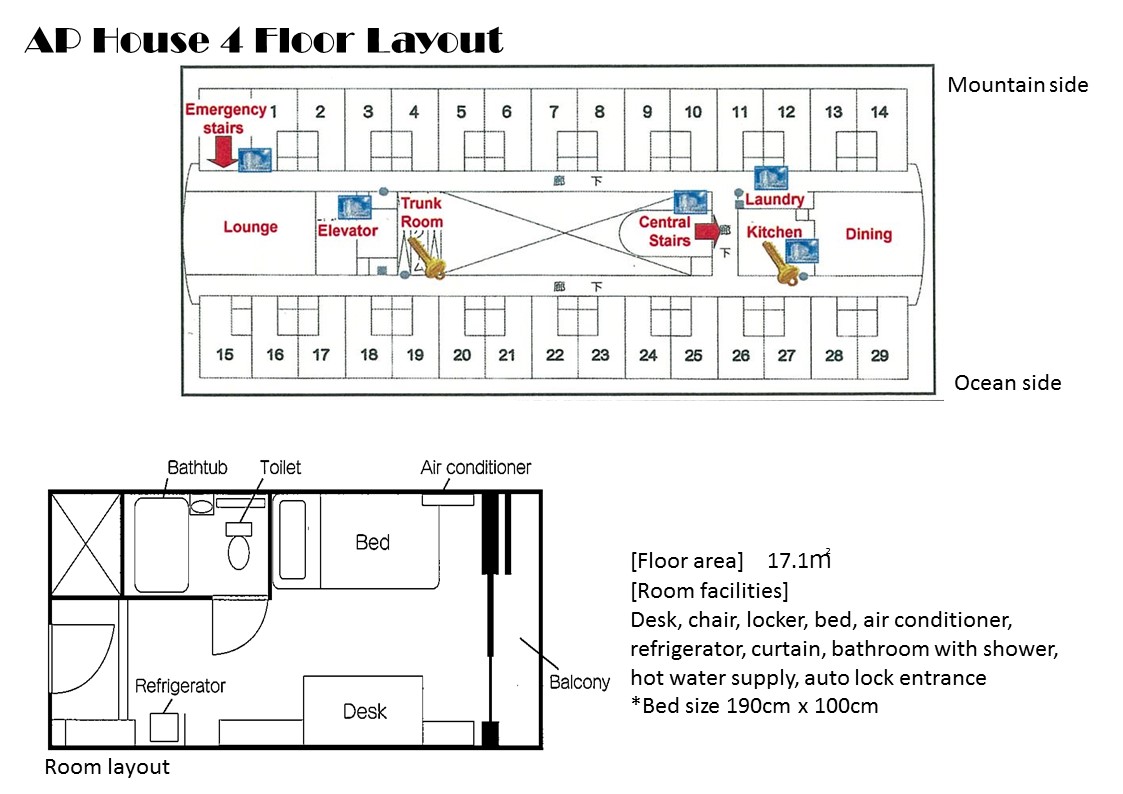 1.Inspection of Rooms and Equipment
AP House and APU staff may enter private rooms to inspect fixtures and furniture. In the case of emergencies such as fire, however, it may be necessary to enter rooms without prior permission of the resident.
2.Precautions
Residents need to adhere to the following rules:
Fixtures and furniture should be treated with care. Do not damage, re-decorate or remove them from AP House.
A steel pipe is installed at the indented ceiling. This is designed only for hanging clothes; do not attach anything heavy.
Residents are responsible for safekeeping their money and valuables.
3.Private Room Keys
Private room keys are the responsibility of the resident.
Residents may not make a copy of their key or lend it to others.
Residents who lose their room key need to report it to the Security Office staff immediately.
Residents are required to return their room key to the Security Office immediately after moving out.
Residents will be required to pay the expenses of approximately 10,000 yen to have locks replaced if they lose their key.
4.Key Switch system
All private rooms are equipped with a key switch system which turns on and off lights, the air conditioner, and the hot-water device.
Without the key, the electric current will run only to the refrigerator and the socket under the desk.
5.Veranda
You cannot smoke or leave garbage at veranda.
When you hang the laundry out, please use laundry pole. Do not hang on veranda handrail.
6.Bedding
Rental bedding
quilt, quilt cover, mattress, sheets, blanket, pillow, pillow cover are loaned to residents.
Cleaning
Cleaning will be done twice a month except for July, August, and September. Cleaning will be done three times a month for July, August, and September.
(Please check the Bed Sheets Exchange schedule on the notice board on each floor or near the entrance.)
Residents need to put used bed linen (sheets, pillow covers, etc.) in a designated bag and put it in the corridor outside their room by 9:00 a.m.
The washed linen will be returned in the evening on the same day.
Residents cannot bring any other bedding except for the summer cotton blanket.
7.Electricity Capacity in Private Rooms (1500 watts)
Simultaneously using electrical appliances such as electric kettles, microwave ovens, hot plates, toasters, electric heating carpets and hair dryers will cause the circuit breakers to trip. Residents are asked to make efforts to conserve electricity.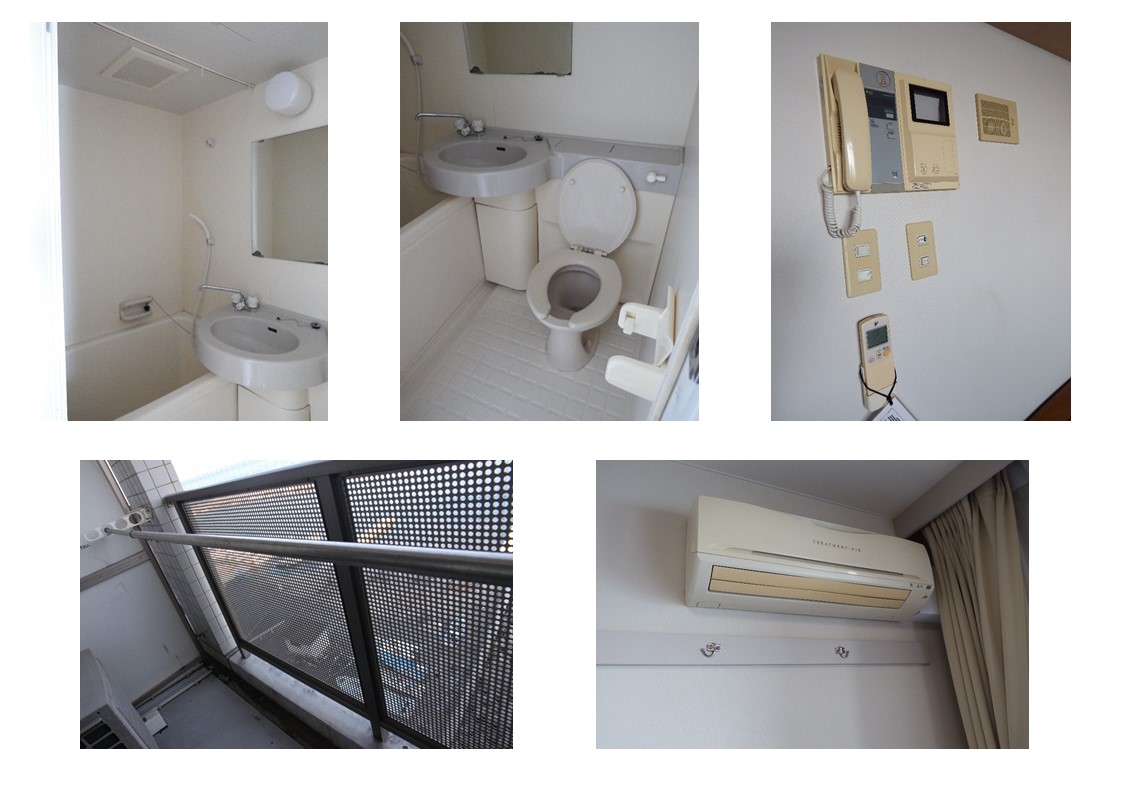 Others
The 2nd floor of AP House 4 is available for residents by the kindness of NPO University Consortium Oita.
It is a public space where a lot of people use, so you must adhere to the following rules.
Prohibition on visitors(non-residents) after 22:00
Prohibition on bringing alcohol.
Pay special attention not to cause inconvenience to other people such as noise while you use it.
Tidy up and restore chairs and tables after you use and clean up the tables.
*Garbage must be taken to your own room.
Regarding the usage of the lounge
For the time being, to improve the convenience of residents, we will extend the operating hours of the lounges on the 3rd through the 9th floors from 6:00-22:00 to 24 hours a day. This is not meant to encourage residents to congregate at night. Rather, it is a temporary measure that aims to make it easier for residents to contact family members who live far away. We sincerely ask that you keep this in mind and always strive to lead a regular lifestyle that focuses on your academic endeavors and research.
Also, please be sure to comply with the following rules.
Lounge Room (Floors 3, 4, 6 & 9) Rules

No eating and drinking including alcohol
No talking in loud voices or singing
No parties
No sleeping or using the lounges for long periods of time
Keep noise to the absolute minimum after 22:00 and the usage should be limited to a bare minimum.

Study Room (Floors 5 & 8) Rules

No eating and drinking including alcoho
Only use the rooms for studying
No talking on your mobile phone
Be quiet
If we see inappropriate use of the lounges including violations of the rules stated above, we will close the lounges or restrict usage times.