SAS - Student Activity Station
SAS - Student Activity Station
Bridge between APU students and local community SAS- Student Activity Station
Are you interested in participating in an exchange event with members from the local community but feel a little anxious? SAS is here to help you take the first step! SAS holds a Local Exchange Guidance for students participating in local exchange for the first time, creates opportunities for APU students to meet local people, and plans exchange events where students can learn more about the surrounding communities.
Being in SAS allows members to learn about Oita and Beppu, develop specialized skills through planning, publicizing, and actually running events, and is a valuable chance to take on a new challenge. SAS offers opportunities for personal growth that come with many benefits for its members, such as the chance to learn Japanese business etiquette through interactions with local organizations, APU offices, and the Board of Education.
SAS is divided into three teams with each planning events according to their own team objectives.
Community Support Team

The Community Support Team organizes various cultural exchange events with children and local residents in Beppu City and Hiji Town. This team plans events where APU students and local residents can learn from each other by having APU students teach English to elementary and junior high school students, and by introducing the culture of their home country.

Student Support Team

The Student Support Team organizes events that allow students who have never participated in local exchange to get to know the surrounding community and its members better. Some examples of past events where students can learn about the community while interacting with local residents include the Kannawa Tour and hands-on workshops where participants can enjoy making traditional crafts.

Innovation Team

The Innovation Team plans and implements new and unique events with the local community and APU students. This team has organized events such as Beppu Bay cleanups and cultural exchanges at a high school in Oita City where participants joined calligraphy and flower arrangements classes.
In addition to these activities, there are also cases where the local community will request SAS to hold an event which SAS will plan, publicize, and implement. Each team typically runs 2-3 events per semester.
There are two SAS member recruitment periods a year (June and December).
Please come and participate in our events!
Check out the SAS Instagram and Facebook accounts to see some of our past events and to learn more about upcoming ones!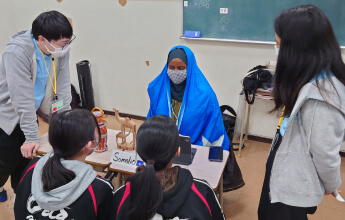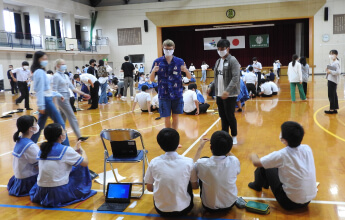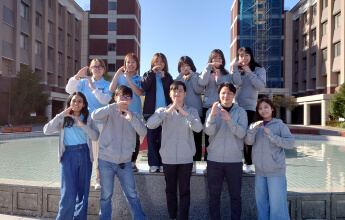 Recruiting for SAS
Fall 2023 SAS Student Staff Recruiting!!
1. Staff Roles

Student Activity Station (SAS) student staff activities are as follows. It is possible that new activities may be added to the list over the course of the year. SAS is looking for flexible and proactive students who are willing to work on a wide variety of programs.

(1) Activities for APU students:

Plan and organize town walking tours and workshops for those new to local exchange.
Other tasks requested by the Student Office

(2) Activities for local citizens (both adults and children):

Plan and organize English classes
Plan and organize culture classes
Plan and organize exchange programs
Other tasks requested by the Student Office

2. Number of Open Positions:

Approximately five

3. Eligibility Requirements

Students who meet all of the following requirements.

(1)

Have an interest in doing local exchange activities and contributing to the local community.

(2)

Able to attend all of the dates in the selection process.

(3)

Able to work on the dates and times below.

14:30 - 17:00 every Wednesday during the semester. Activities will be held both online and in-person.
Days when SAS will be holding an event (Events may be held on weekends as well as on weekdays.)

(4)

English-basis students must be able to speak at least conversational Japanese.

(5)

International students must have a work permit.

(6)

Able to participate in the SAS meeting from 16:00 to 17:00 on Wed, July 19, 2023.

(7)

Able to join the SAS training session from Sat, October 7, 2023.

4. Contract Period

Minimum one year. (We welcome applicants who can participate for more than one year!)
Please note that a SAS member's contract can be terminated at any time for the following reasons:

(1)

Being late or absent on SAS working days without notice and without showing efforts to improve.

(2)

Other cases where the Student Office deems it necessary to disqualify a member of SAS.

5. Remuneration for SAS Student Staff

(1) SAS events recognized by the Student Office and Local Exchange Workshop for APU Students:
1,000 yen "QUO card" gift voucher per person per workshop (includes preparation time)

6. Application Period and Application Method

Attend the recruitment guidance session on Wed, June 14 at 14:30.

※ Video of the guidance session can be viewed on the SAS Facebook and Instagram accounts, for students who did not attend the online guidance session. Please note that students who attended the guidance will be given preference in the selection process.

First selection: Application screening (online application): Wed, June 14 – Mon, June 26 (10:00 am)

First selection results: Results will be sent to the applicant's Action Required section on Campus Terminal on Tue, July 4.

Second selection: Interviews: Mon, July 10 – Wed, July 12, 2023

* SAS does events in cooperation with members from the local community, so SAS members need to be able to speak Japanese. The interview will be conducted in Japanese to verify applicants' Japanese skill level.

Selection results: Results will be sent to applicants' Action Required section on Campus Terminal on Fri, July 14, 2023

Meet with current SAS staff: Wed, July 19, 2023 16:00 to 17:00

7. Contact Information