APU opened in 2000 in a public-private collaboration between Oita Prefecture, the City of Beppu and the Ritsumeikan Trust. Given this, APU views contributing to the development and internationalization of the surrounding area as one of its core missions. Our self-motivated students play a major role in helping us achieve this mission.
APU Students Chosen to Serve on Beppu Intercultural Nanden-Kanden Festival Organizing Committee
On August 17, the Beppu Intercultural Nanden-Kanden Festival, an event commemorating the 90th anniversary of Beppu City's incorporation, will be held at B-Con Plaza. To ensure that the citizens of Beppu can experience the city's international atmosphere, the Cultural and International Affairs Division of Beppu City Hall has joined forces with students from three universities—Beppu University, Beppu Mizobe Gakuen Junior College and Ritsumeikan Asia Pacific University—to establish an organizing committee for this commemorative festival.

PARK Hyeryung (APM3) and OTSUKA Yuki (APM3), two members of APU's Student Organization Support Committee (SOSC), a student group that aims to make university life more rewarding by facilitating exchange among people, were selected to join the organizing committee.
PARK said, "I want to surprise those citizens who only think Beppu is a 'traditional' city by showing them how diverse it really is."
"The theme for the event is 'Beppu and the World: Living and Growing Together'. If you go to B-Con Plaza on August 17, you will be able to see performances from many different countries," added OTSUKA.

Approximately 3,850 foreigners from 88 countries and regions currently live in Beppu.
Now in its 90th year, Beppu maintains its position as a nationally renowned hot spring resort while gradually transforming into an internationally diverse city—the population density of foreign residents is one of the highest in Japan.
"I was born in Oita and have lived in Beppu since I was in high school, but I never knew there were so many foreigners here. The aim of this events is to communicate this fact to the people of Beppu and pique their interest in the international community," said OTSUKA. PARK added, "Beppu is a traditional city and an international city at the same time. I think that is what makes it special."

He continued, "I don't know what the actual economic impact might be, but this event can deepen international mutual understanding, which is one of APU's basic ideals. This will not just be an event where foreigners introduce their cultures to Japanese people. I think we will be able to raise local citizens' awareness that there are people of many cultures coexisting right here in Beppu." In addition to PARK and OTSUKA's participation in the organizing committee, many other students will help make the event a success. In this way, our students will continue to engage in a wide array of activities in an effort to contribute to community development in Beppu, all while receiving the warm support of the local citizens.

SAS Member Interviews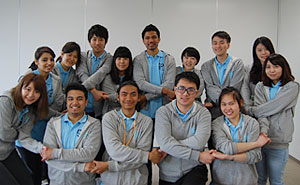 Student Activity Station, or SAS, is a group of students who facilitate friendship-making activities and regional exchange. We interviewed some members of SAS to see why they joined the group and what kind of activities they are currently involved in. We interviewed some members of SAS to see why they joined the group and what kind of activities they are currently involved in.