In the same age, under the same sky

World Press Photo 2014

Time/date

:
November 2 (Sun) - November 16 (Sun). 10:00~17:00 (entry until 16:30). Open for the entire duration of the exhibition.

Venue

:
Ritsumeikan Asia Pacific University, Building A, 2F Convention Hall

Admission

:
500 yen for adults / free for high school students and below.
*Free for APU students, faculty and staff on presentation of faculty/staff/student ID

Organized by

:
The Asahi Shimbun Company, World Press Photo, Ritsumeikan University Kyoto Museum for World Peace, Ritsumeikan Asia Pacific University

The World Press Photo 13 Exhibition will be held at APU from Sunday, November 2 until Sunday, November 16. Held in approximately 100 cities in 45 countries around the world, this is the exhibitions only visit to Kyushu.

World Press Photo is an annual exhibition run by an Amsterdam-based non-profit foundation of the same name and features award-winning photographs from the World Press Photo Content. Now in its 57th year, the exhibition is a showcase of some of the world's very best in photojournalism. APU also hosted this exhibition in 2000 and every year since 2003.

The exhibition features nine sections including contemporary issues, people in the news, portraits and sports. This year the exhibition received 103,481 submissions from 5,666 photographers in 124 countries/regions. The exhibition itself features approximately 160 images from 54 selected photographers including Samuel Aranda's "Photo of the Year" winning image of a woman holding a man injured during the Yemeni uprising, and images taken during the North Africa and Middle East pro-democracy demonstrations, the aftermath of the Great Tohoku Earthquake and Tsunami, and other snapshots of the world in 2012.

Opening on June 7 at the Tokyo Metropolitan Museum of Photography, the exhibition will be showing at Osaka,Saitama,Kyoto (Ritsumeikan University Kyoto Museum for World Peace), Shiga Prefecture (Ritsumeikan University), and at APU ? the exhibition's only showing in Kyushu. The high quality and professionally reported images give us a view into what is happening around the world and we invite you to come along and experience the power that these images have.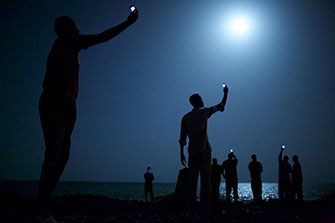 World Press Photo of the Year 2013
John Stanmeyer
USA, VII for National Geographic
26 February 2013, Djibouti City, Djibouti
African migrants on the shore of Djibouti city at night, raising their phones in an attempt to capture an inexpensive signal from neighboring Somalia?a tenuous link to relatives abroad. Djibouti is a common stop-off point for migrants in transit from such countries as Somalia, Ethiopia and Eritrea, seeking a better life in Europe and the Middle East.