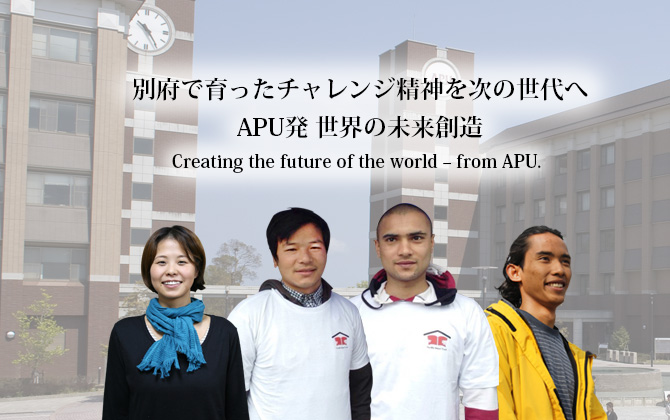 Creating the Future of the World from APU
Ritsumeikan Asia Pacific University (APU) first opened its doors in the year 2000 and its campus, set high up on the hills of Jumonjibaru in Beppu city, has so far welcomed students from 134 countries and regions. These students have all strengthened their intercultural understanding skills by studying together in this multicultural environment. Now, APU alumni are utilizing the knowledge, experiences and global perspectives they have accumulated at APU to undertake challenging in array of different fields both in Japan and around the world.
Construction of Schools in Nepal
YouMe Nepal Trust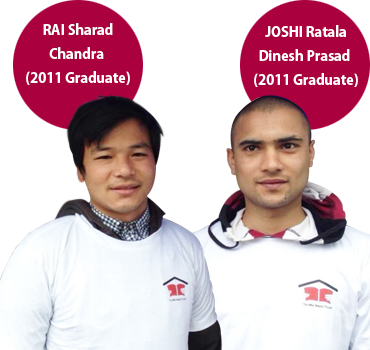 JOSHI Ratala Dinesh Prasad (2011 graduate)
RAI Sharad Chandra (2011 graduate)
After enrolling at APU in 2007, RAI Sharad Chandra and JOSHI Ratala Dinesh Prasad spent four years studying in the College of Asia Pacific Studies (APS) before graduating and setting up the YouMe Nepal Trust non-profit organization. Although they are based in Japan, their activities include building schools in Nepal.

Born in a poor village in eastern Nepal, RAI studied diligently and received scholarships to study at elite private elementary, junior high and high schools in Nepal. In his final year at high school, he was invited to visit Japan by the Japanese Ministry of Education, Culture, Sports, Science and Technology. His interest in Japan grew and he decided to further his studies by entering a Japanese university. He chose APU for the opportunity it gave him to study in English.

JOSHI, who was born in a poor farming village in western Nepal, has been friends with RAI since their elementary school days, and followed in his footsteps by also coming to APU one semester after RAI enrolled.

Both men worked as volunteers during their time at APU, visiting local primary schools in the cities of Beppu and Oita to carry out international exchange activities with the children. RAI, who lived in Beppu's Kamegawa area and worked part-time at local shops and tourist spots, says, "The people of Beppu were so friendly and welcoming to me. I know everything about Beppu now. It is like my hometown in Japan." RAI also published a bilingual campus newspaper that introduced various events on campus and happenings around the world in both Japanese and English.

"I made friends with people from many different countries at APU. The multicultural environment really appealed to me, and APU gave me the skills to instantly become friends with people from all walks of life," says RAI.

Six months before graduation, the two men discussing possibilities for their future when they heard that all of the children from RAI's village in Nepal had failed to get into junior high school. "At that time, we were thinking that we would like to be able to do something for Nepal, the country that raised us, so hearing this news made us think about building schools to provide children with a better quality of education," said RAI, reflecting on that point in time.

After graduating from APU, JOSHI went to graduate school at the United Nations University, while RAI spent some time learning about the Japanese education system as an elementary and junior high school English teacher in Fukuoka prefecture, before heading to graduate school at the University of Tokyo. In 2012, when they were both still studying at graduate school, RAI and JOSHI founded their NPO and established a YouMe School in RAI's home village. 'YouMe' incorporates both the Japanese word for dream 'yume' and the English words 'you & me'.

Classes at YouMe Schools are taught entirely in English by highly-skilled teachers. Tuition fees are the equivalent to roughly 500 yen per month, a significant amount for families in Nepalese farming villages where the average wage is only 3,000 yen per month. However, RAI and JOSHI have created a scholarship system for those families that can't afford the fees whereby children from these families help with various chores around the school in exchange for tuition. There are currently about 100 children between the ages of six and 12 going to this school, and last December the non-profit organization completed construction on a stone school house.

After completing his master's program at the University of Tokyo, RAI began working at an IT company in Tokyo last October. In the future, he hopes to incorporate IT, with its global scope, into education and use the internet to provide an even higher quality education.

"At some point, I hope we can build schools all over Nepal. What it comes down to is that we just need more schools, but first we need to succeed with our own projects, so that we can show the children of Nepal what is possible. It would be great if we could find others to follow and help us on our journey," says RAI.

Together, these APU graduates hold the key to cultivating the next generation of Nepalese citizens.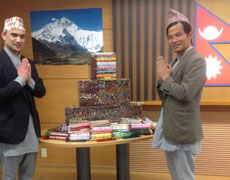 Giving Children the Opportunity to Learn
Hoshizora Foundation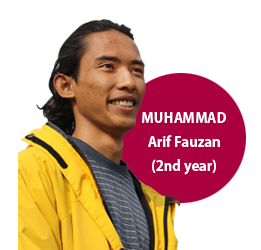 MUHAMMAD Arif Fauzan (APM2)
The Hoshizora Foundation works to give educational support to disadvantaged children in Indonesia. Not only does the foundation raise the money from sponsors around the globe to help finance children's education from elementary to high school, it also facilitates communication between the children and their sponsors, which in turn motivates the children to study.

Elementary and junior high school education in Indonesia is free, but a lot of children are still unable to attend due to the cost of textbooks and commuting. Hoshizora was established by four Indonesian students who studied at APU. They came to the realization that the 1,000 yen they were mindlessly spending every day on food and other items could in fact pay for an Indonesian child's education for one whole month, so they started sending 1,000 yen home every month. They founded the Hoshizora Foundation in 2006 while they were still students APU. Initially their efforts were helping around 30 children, but now the Foundation has grown to support over 1,000 children.

In the future MUHAMMAD Arif Fauzan, a 2nd year student in the College of International Management (APM), would like to establish an NGO and work as a social entrepreneur. MUHAMMAD worked as a volunteer at the Hoshizora Foundation before entering APU. His job in the Business Division involved planning and arranging "Hoshizora Tours" for sponsors coming to meet the children and for organizations wanting to observe how the Foundation was run. At APU, he formed Hoshizora APU, a club that carries out activities in collaboration with the Hoshizora Foundation.

"I hope that what we are doing now will one day spread to become an enterprise that helps children around the world. Hoshizora grew from the idea of a few students, and the fact that it developed into what it has is due to the environment at APU, an environment that is both international and in which students are encouraged to actively challenge themselves," says MUHAMMAD.

Supporting Truant Students
Heartful Wave Free School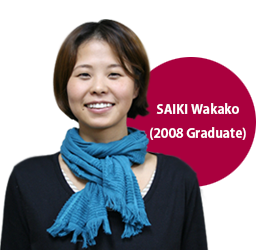 SAIKI Wakako (2008 graduate)
SAIKI Wakako runs a free school called Heartful Wave, which provides a place for truant students to study in Oita City. After graduating from the College of International Management (APM) in 2006, SAIKI went on to study at the APU Graduate School of Management and graduated with an MBA in 2008.

SAIKI first got involved in helping truant students during her first year as an undergraduate student when she got a part-time job as a home tutor and one of her students happened to be a truant.

"I realized that students who stop going to school suddenly lose a place to study. It gets harder for them to go back, and their options start to dwindle. I thought there needed to be more learning environments suited to all types of people and personalities," says SAIKI.

As she worked towards making her project of providing different kinds of learning environments a reality, SAIKI learned a lot at APU: it was an environment in which she was able to obtain everything she needed. She visited numerous free schools throughout Japan and then, influenced by her friends, went overseas to observe various learning environments at schools for Japanese children. She traveled all over the world to try and find what would work in Japan and what would work for students in Oita.

Currently based in Oita City, Heartful Wave currently provides four major services: the free school, an after-school care program for children during the summer vacation, home tutoring, and support for students taking high school correspondence courses. With the completion of a new boarding facility in April, the school will start taking students from outside the city.

"I want to increase the number of classrooms so that we can provide different types of learning environments for students," says SAIKI, who is currently focusing on training staff. According to her the job of "taking children in, educating them, and sending them out into the working world" is her life.