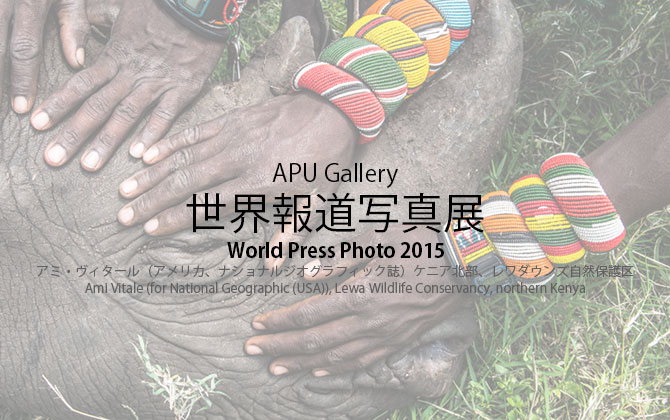 Visible Reality, Hidden Truth
World Press Photo 2015
Time/date

:
October 21(Wed)~November 4(Wed)10:00~17:00
(entry until 16:30)
Open for the entire duration of the exhibition.
Venue

:
Ritumeikan Asia Pacific University, Building A, 2F Convention Hall
Admission

:
500 yen for adults / free for high school students and below.
*Free for APU students, faculty and staff on presentation of faculty/staff/student ID
Organized by

:
Ritsumeikan University Kyoto Museum for World Peace, Ritsumeikan Asia Pacific University, The Asahi Shimbun Company, World Press Photo
World Press Photo 2015
The World Press Photo Exhibition will be held at APU from Wednesday, October 21 until Wednesday, November 4. This is the exhibitions only visit to Kyushu.
World Press Photo is an annual exhibition run by an Amsterdam-based non-profit foundation of the same name and features award-winning photographs from the World Press Photo Content. Now in its 58th year, the exhibition is a showcase of some of the world's very best in photojournalism. APU also hosted this exhibition in 2000 and every year since 2003.
A total of 41 photographers received awards in the World Press Photo contest this year. The contest has a total of eight categories, each divided into Singles and Stories (multiple images). Awards are issued for the top three submissions for each category. Among the winning submissions, the best photograph for the year is named the World Press Photo of the Year. This year, Danish photographer Mads Nissen won the Picture of the Year for his photograph depicting a gay couple in Russia. Mr. Nissen believes that "life for lesbian, gay, bisexual and transgender (LGBT) people is becoming increasingly difficult in Russia. Sexual minorities face legal and social discrimination, harassment, and even violent hate-crime attacks from conservative religious and nationalistic groups."
The World Press Photo Exhibition provides a unique glimpse into the little-known realities faced by people in our era. It is an excellent opportunity to for visitors to learn about contemporary problems and conflicts occurring around the world and to witness various exceptional scenes, such as miraculous sports moments or the ongoing destruction of nature. Don't miss this photo exhibit!
Nature, second prize singles
Ami Vitale (for National Geographic (USA))
Lewa Wildlife Conservancy, northern Kenya
A group of young Samburu warriors touch a black rhino for the first time in their lives, at the Lewa Wildlife Conservancy, in northern Kenya.
Black rhinos are almost extinct in Kenya. This young calf had been orphaned when poachers killed its mother, and was hand-raised at Lewa. Most people in Kenya never get the opportunity to see the wildlife living around them, especially at such close quarters. Attention is often given to the effect of poaching on wildlife, but there is little focus on indigenous communities, who are on the frontline in the clash between poachers and armed game wardens.