APU's Career Planning Week (CPW) 2016 will take place from Monday, November 7 through Saturday, November 12. This week will feature a range of events and activities designed to help students think about their own future careers. This will include practical events directly related to job hunting, longer-term career planning, lectures by specialists and professionals from a variety of backgrounds, and other programs with students and alumni active in the working world.
During CPW, participants have the chance to...
・Attend a talk titled "Defining Global Careers" by the CEO of Molson Coors Japan, where he will discuss his career path and the steps involved in becoming a successful international businessperson.
・Participate in a course on make-up for job hunting, presented by a make-up artist from Shisedo.
・Hear from six different companies from different industries as they talk about jobs and work styles.
・Sit for a seminar on preparing for the world's top-ranked graduate schools, in a program that will look at the question of advancing to graduate school.
・Take part in "World Shapers Talks", a special lecture and panel discussion with APU alumni from all over the world.
We look to forward to seeing you there!
See below for more details:
Career Planning Week 2016 Event Calendar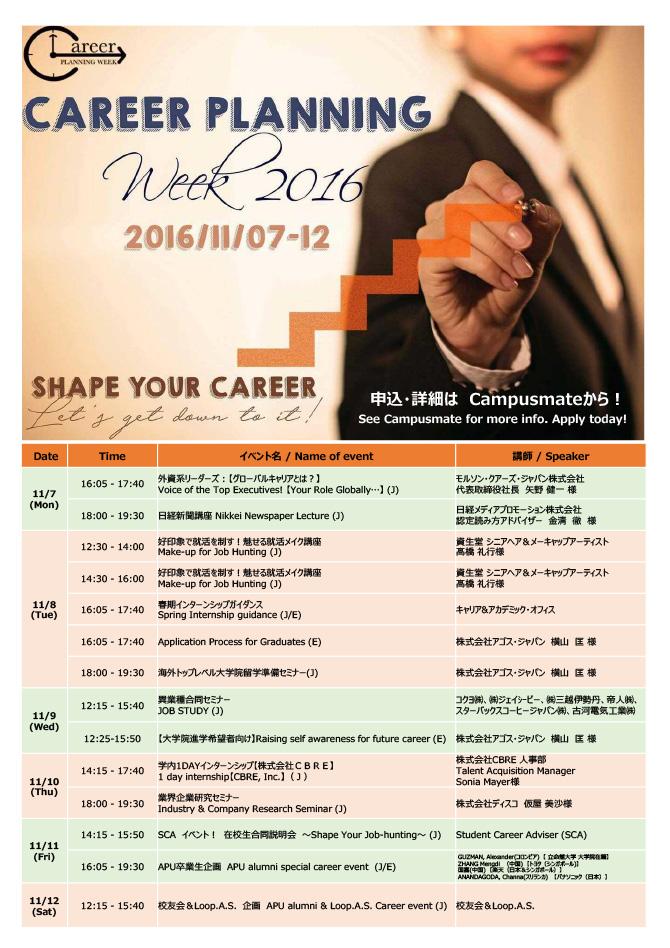 Please see here for more details about Career Development Support at APU.