Choose what you want to study. Choose where you want to study. Choose how much you want to study. Set your goals. Study anywhere in the world.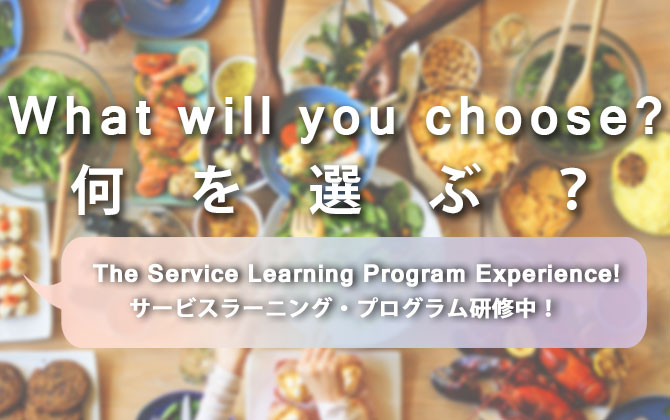 You learn, think and move in APU's amazing multicultural, multilingual environment. Show the world the knowledge and dynamism you've gained by taking on the challenge of learning in the off-campus study program kind of learning that will continue to deepen in the oasis of diversity that is APU.
It's completely up to you whether to participate in the off-campus study program. The combinations are endless! With all the appeal of a five-star buffet, you can keep making whatever choices you want.
Let's take a look at some students who've made the most of the off-campus study program their diverse learning combinations, and their stories.
Hayato's Timeline
APU is full of diverse opportunities. Just like an exceptional buffet, you can choose what you like and arrange your choices onto a plate. The main course—the thing that influenced me the most—were APU's off-campus study programs. By focusing on my interest in human resource management, I have been able to arrange my plate of experiences into one that is unique and embodies my own dreams and goals.
YOSHIDA Hayato
Japan, College of International Management, 4th year
ACCESS Program: Getting started before admission

In March, right before I started at APU, I took part in the ACCESS Program. Through this I was able to travel to St. Edward's University in Texas in America for two weeks to study, strengthening my basic academic English skills, and acquiring additional learning skills. I still remember how inspired I was by my fellow classmates, and I resolved to make full use of the unique environment at APU.

FIRST Program: Stepping outside comfort zones

Like many other first year students, I did not know what I was interested in or where I wanted to focus my efforts. While I know that APU offers a wonderful multicultural environment with many different programs, I also understood that I if I did not get information about these opportunities I would not be able to utilize them. So in June of my first year I joined the FIRST Program, where I traveled to South Korea for five days for some real-world experience. While I was there I tried many different things, even though the content did not always match what I was expecting. After this experience, I began to think about a three step process: 1) Gather information, 2) consider whether the information will help me reach my goal, and 3) decide whether or not to act on the information.

Can my actions motivate or influence people?

After participating in the FIRST Program, I began to develop clearer ideas on what type of person I want to become. Thanks to my off-campus experience and my experience as a member of APU Buddy—assisting short-term students at APU—I realized that I was interested in seeing how my actions can motivate or help other people.

SEND Program: Taking aim

In summer of my second year, I participated in the SEND Program, which is an educational internship. I went to a junior high school in Loei, a province of Thailand, and worked in a team with two other APU students to teach Japanese. During the first week, the three of us realized we had different ideas because we had different goals, and as a result we clashed with each other. The three of us were working in different directions; while my goal was to motivate students and to increase their eagerness to study Japanese, another team member was more interested in creating classes than in managing the classes. The third member was focused on how much our students understood the language cards that we made ourselves.

With everyone working in their own way, sometimes I had to teach classes without sufficient preparation. However, we understood that we were working as interns, and were responsible for our work. After discussing the situation in our team, the three of us shared our goals and established a cooperative framework in which we were able to work together and support each other.

Since this was a short one-month program where we needed to teach Japanese to students who did not even know basic Japanese phonetics, we decided that our goal was to enable students to remember general greetings and useful Japanese phrases such as oishii (delicious). By providing students with this experience, we hoped to inspire an interest in Japan, and from that to motivate them to study Japanese in the future.

Junior high school students are easy to understand. When we gave a class that they found uninteresting, they looked away. When they found our classes interesting, they listened eagerly. Depending on our actions, their interest in the Japanese language and their motivation for learning would change. With this in mind, we exercised our ingenuity, such as by writing Japanese, English, and Thai on the word cards we used in classes, so that even students who are still learning English could understand and participate.

I believe the experience of working with other people on the SEND Program, and realizing that our actions can influence and motivate other people drew me to human resource management, which I am currently studying at Hanyang University, where I am participating in an overseas exchange program.

Preparing for overseas exchange: Do activities strengthen communication skills?

In preparation for my overseas exchange, I tried to improve my academic English by reading lots of books, because English used in daily life and English used in class are different. I was also a member of APU Buddy, a student organization that matches APU students with short-term exchange students—a type of support I would not be able to rely on during my own overseas experience—to help them with their life at APU by befriending them and helping them overcome difficulties related to language or other differences. By being an APU Buddy, I was able to realize a tangible improvement in my English communication skills.

Creating a comfort zone in unfamiliar terrirory

Now I am currently studying human resource management at Hanyang University in South Korea on an overseas exchange program. Because I worked hard on my English skills before coming on this program, my student life and classes provided in English are very fulfilling. However, there are no other Japanese people around me, and when I go out to town I find myself in an all-Korean language environment. Since I came to South Korea without studying Korean at all, at first the unfamiliar environment made me feel stressed. As a result, I participated in meetings and activities with other exchange students and regular students from the university.

Consulting with each other about our worries, and learning Korean from these students, I found my stress levels dropping, and now I rarely feel stressed. Because I believed that an environment where I was the only Japanese person should provide me with a unique challenge, I was constantly questioning whether I had fully utilized this opportunity, and whether it had contributed to my own development. I now feel that, thanks to my experiences, I will be okay wherever I go.

Message for younger students

The time you spend on study abroad is full of awesome potential. Anyone may study abroad, but the act of going on a study abroad program does not necessarily mean that you will experience a difference.

I think that when we are faced with a buffet, there are reasons behind the food choices we make. We may take something because we like it, or because we are health conscious, or maybe because we are thinking about the presentation and colors of the plates. I believe that the choices we make at university, and the actions we take, are important and should have thought and reason behind them, in the same way as the plates we take at a buffet.

Knowing how you want to use the opportunities in the environment around you and what you want to achieve will help you understand what you are interested in or what you should aim for during any program in which you choose to participate. It can also help you choose a program that will provide you with the opportunities and challenges you need to meet your goals.

If you have a steady focus, you will never lose sight of your quest. Aim to achieve your goal, and never give up. Make each program you choose be a symbol of your own development, and know how the programs you choose will become a part of your unique plate of experiences.
Yuzuki's Timeline
I didn't know what I wanted to do in the future. My goal before going on exchange was to study criminal justice, but after going abroad, I realized what I wanted to do: Create a society that keeps children from turning to a life of crime.
WATANABE Yuzuki
Japan, College of Asia Pacific Studies, 4th year
I wanted to try everything APU had to offer, starting with the FIRST Program

When I first came to APU, I knew I wanted to try many different things. There are many opportunities at APU, but I felt that if I missed the first chance to study abroad in my first year, I wouldn't be able to seize any future opportunities. So, I joined the FIRST Program and spent five days doing field work in Korea.

BASE Program: Clarifying goals to prepare for study abroad

Because I was admitted to APU, I was certain I wanted to spend a year on exchange, so I joined the BASE Program (formerly SRC) to put myself in an environment where students like me who were aiming to go on study abroad could help motivate each other. Naturally, I worked on improving my English skills, and we also went to Malaysia and Singapore on a short-term overseas training program. The best thing about the BASE Program was that it made me think very carefully about why I wanted to study abroad and what I wanted to study at my host institution. Upon conducting a self-analysis, I realized that I've liked foreign crime shows since I was a child and that I was interested in studying about crime from an academic standpoint. I thought carefully about why I wanted to study abroad in terms of my interests and passions, and I spent several long nights at a family restaurant with a former BASE participant reworking my application. In the end, I was accepted for an exchange program without a hitch.

Exchange to the US: Choosing a destination for an academic program

I chose Grand Valley State University in Michigan in the United States as the destination for my exchange program because there were many faculty there who taught criminal justice as well as classes taught by police, juvenile detention center officials, and other professionals. I was the only Japanese person among my classmates, many of whom wanted to work for the FBI and CIA. I didn't have much background knowledge in criminal justice, so pursuing specialized studies in English was hard. This is when I started to realize what I wanted to do was keep children from getting involved in crime, and I felt the key here was to strengthen ties between parents and children. Instead of becoming directly involved as a social worker, I came to see my goal was to prevent children from committing crimes indirectly by working for a manufacturer that produces goods to improve people's quality of life.

Expressing my true aspirations thanks to APU

Until high school, I worried about what others thought and I was not able to easily express my true feelings. However, at APU with all of its diversity, I learned to accept people's opinions even if they were different from my own and to voice my own opinions without hesitation, even if I thought they might be a bit different. My desire to study criminal justice may have been seen as a bit unique anywhere else in Japan, but by coming to APU, I was able to honestly express this desire for the first time. APU has many different off-campus study programs with different aims and varying lengths. When you realize there is something you want to do, I think you can find a program that more or less suits your needs. If you always keep in mind what you want to do, then I think you will be able to take advantage of the opportunities when they present themselves.

Helping younger students on the BASE Program

I am now focusing my energies on helping younger students who want to put their experiences to the test on an exchange program but are not sure how to go about doing that. Some people think that going abroad to study English in their first year counts as exchange, but the real objective of exchange is not to learn English, but to use your English skills to learn something. You have to think about what you can learn at our host institution and how you can put that to use for your future. When students tell me they don't know what they want to do in the future, I discuss my own experiences, and I help them reflect on what they like and what interests them. When they can't do it on their own, I help them dig down and find that dream for the future that is buried deep in their hearts. I also want to make APU a better place since it provided me with so many experiences over the past four years. By helping underclassmen, I want to give something back to APU and to the older students who helped me.

Message for younger students

I know some students want to study abroad but don't know where their interests lie or what they want to be in the future. I was the same way. But, if you just think deeply about what you've done and experienced so far, I think you will find some clues for your future. Just investigate those clues, and a path will open up before you. As long as you feel strongly about studying abroad, I'm sure you will be fine. Ask older students who have already studied abroad for help, and create a rewarding and original student life for yourself!
Chalisa's Timeline
I came to APU looking for a place where I could engage in peer learning in an international environment. Despite my inexperience with the Japanese language, I poured my energy into a wide range of activities, including research, an internship at the Royal Thai Embassy in Tokyo, and an exchange program to Ritsumeikan University. In the future, I want to work for a Japanese company to help build closer ties between Thailand and Japan.
CHINTRAKARN Chalisa
Thailand, College of Asia Pacific Studies, 4th year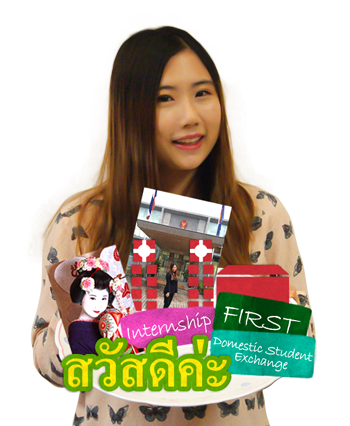 Choosing APU for an international, active learning environment

In many schools in Thailand, classes consist of teachers lecturing while students take notes. As a student taking classes like this, I started to dream of taking classes where the students would constantly give presentations in front of the class. This is when I decided I wanted to go to an international university that employs a lot of in-class discussion.

Because my father loves Japan, we had visited Japan before on a family vacation. I also grew fond of Japanese culture, customs, and language, and I started to think it would be great if I could study in Japan. One day, one of the staff at my high school told my class about Japanese university with a large number of international students where we could also study Japanese: APU. At that time I did not know APU was in Oita Prefecture, but I did know that I wanted to be somewhere outside of a big city, because of the awful traffic in my hometown of Bangkok. I liked the idea of being able to concentrate on my studies if I went to an outlying area instead of a large city like Tokyo or Osaka, not to mention that the culture would also be different. One of the other reasons for choosing to study in Japan is that there are a lot of Japanese companies in Thailand. I figured if I could learn Japanese, it might help me to land a job in the future. With all of these reasons informing my decision, I made up my mind to study at APU.

FIRST Program Kyushu: Survey 300 people in four days

In the fall of my first year, I joined the FIRST Kyushu Program. My team consisted of six first-year English-basis international students: two from Indonesia, and one each from Sweden, Bangladesh, Vietnam, and myself from Thailand. We were accompanied by one Japanese Teaching Assistant, whose job was to provide support only when we really needed it.

Before leaving, the teams drew straws to determine their destination. Our team drew the areas of Tosu and Arita, in Saga Prefecture. The other teams went to Hita in Oita Prefecture, Moji Port in Kitakyushu City, Karatsu in Saga Prefecture, and Sasebo in Nagasaki Prefecture. For our part, we interviewed about 300 residents of Tosu and Arita. Our research topic was looking at how Japan's culture of punctuality affects daily life. We wanted to see if there was a difference in punctuality between the public and private lives of Japanese people, so we asked people how many minutes earlier they arrive to work or school as opposed to when they meet friends. We had only been studying Japanese for six months, but because we only had four days on the program we had to approach many people on the street to perform our research. Our Japanese skills improved quickly. I also learned project management skills, and how to communicate with team members of many different nationalities. What's more, the program made me realize how different the citizens of Beppu are compared to people in other cities. The people of Beppu are used to interacting with foreigners; I think this is because APU is in Beppu. It made me quite happy to realize that Beppu is international in this way.

Internship at the Royal Thai Embassy

For one month during the summer of my third year, I interned at the Royal Thai Embassy in Tokyo. I became interested in this internship after a senior student told me about her experience, deciding to apply. At APU, if you need a letter of recommendation for an internship like this, the Career Office will issue you one after you meet with one of the Career Office staff for an interview.

At the Embassy I was able to work in four different sections: the Protocol section, the Information & Cultural section, the Political and Economic section, and the Consular section. One of the most enjoyable parts of my internship was helping out with an event where Japanese children visited the embassy to learn about Thai culture. For this event, the staff in the Information and Cultural section had to prepare questions for the children about Thailand, so they thought long and hard about the kinds of questions that the children would enjoy. During the event, I was a facilitator during the quiz, and I was very happy to see that all the children eagerly raised their hands and learned about Thailand. At the same time, my professional Japanese improved through listening to the MC for the event, a talented Japanese staff member from the embassy.

The staff at the embassy taught me many things on my internship, such as appropriate workplace manners, Japanese-Thai interpretation, and how to exhibit a professional attitude while working. By the end of my internship, I had gained a better idea of what it is like to work in an embassy.

Domestic exchange program: Ritsumeikan University

In the fall semester of my third year, I went on exchange for six months to the College of Social Sciences at Ritsumeikan University. I wanted to study media at another university and had originally planned to go to the United Kingdom on an exchange program. However, when I learned about APU's domestic exchange programs, I realized I could study media in Japan at Ritsumeikan University instead of going overseas. This helped me decide to aim for pursuing graduate studies in the United Kingdom after finishing at APU.

All of the classes at Ritsumeikan were held in Japanese. It was very hard, but the writing support really helped me. I had trouble getting used to being surrounded by nothing but Japanese people, but I took advantage of not having many friends at the start to concentrate on studying media. Once I got acclimated, I joined a program where students peer taught each other in Japanese and English, and I made friends with the members of a student group that provided support to exchange students. My life at school and my private life were both very rewarding. In the end, I am glad I went on exchange in Japan because if I had gone overseas, my Japanese would not have improved like it did.

Moreover, studying at Ritsumeikan University afforded me a chance to look at APU more objectively. I realized that because of the truly international environment at APU, the domestic students here are different from students at other Japanese universities, because they are used to having international students around.

Fourth year thesis: Culmination of studie

I am now in my fourth year, taking a seminar class with Professor IGUCHI Yufu. In this class, titled "Culture and Society: Theory and Practice", I am using the experience and knowledge I have gained in the fields of media studies and cultural studies to analyze advertisements in my thesis, "Representations of Ethnicity, Nationalism, Gender and Orientalism in Thai Tourism Advertisements".

Graduate school plans with an eye toward working in Japan

After I graduate, I want to go to graduate school. If I go to a Japanese graduate school, I will major in Asia Pacific area studies, but if I go to a British graduate school, I will major in digital culture and society. In either case, I want to work for a Japanese company and utilize the Japanese language skills I have worked hard to develop. Not to mention, the Japanese notions of time management and punctuality suit my personality. By working in Japan, I want to help build closer ties between Thailand and Japan.

Message for younger students

If you think you want to go on study abroad, even just a little, do not hesitate. A wide array of new experiences and people are waiting for you, but only if you take action now!
Ryo's Timeline
I wanted to have many experiences. Whenever there was a program recruiting students, I applied immediately, driven by a sense of curiosity. Looking back on the past as a fourth-year student, I realize that my previous experiences continue to inform my present actions and decisions. These experiences have shaped me into the person I am today.
SHIRAKAWA Ryo
Japan, College of International Management, 4th year
First time overseas: Heading to South Korea with FIRST

Before enrolling at APU I had never traveled overseas. After joining the university I decided to participate in the FIRST Program, which is the one of the earliest opportunities for first year students to travel overseas. Participants in the FIRST Program travel to another country to conduct survey activities, with South Korea the scheduled destination that year. As I was taking elementary Korean at APU, I had developed an interest in the country. Using my rudimentary Korean skills, I conducted a survey that aimed to collect responses from 200 people.

It was a struggle at first because I had trouble finding people who would respond. Thinking about a way to get people to answer my questions, I decided to draw out interest by greeting people in an energetic manner with a big smile and loud voice, saying, "I have come from Japan. Just seven questions! Just seven questions!" After I switched to using simple language, I found that the number of respondents gradually increased, and I was ultimately able to achieve my target number.

During my first time overseas, I observed that the essential nature of people is the same regardless of the country. I learned the importance of smiling, and that a simple facial expression can change people's interest. After returning to Japan, I tried to be more aware of this. While conducting activities overseas, I also noticed that there was a gap in the information broadcast by the Japanese media and actual conditions on the ground, and that there are things that you need to witness with your own eyes.

Service Learning Program: Learning the importance of using language to communicate

After completing my first year at APU, I participated in a three-month Service Learning Program offered by Old Dominion University (ODU) in the state of Virginia in the United States. This program combines language and service-related learning through internships (work experience prior to taking up employment), externships (work experience that is not directly related to a job search), volunteer activities, and other activities.

I decided to take part in the program for two reasons. First, while studying English in high school I had never focused on listening and speaking skills. I wanted to find out how much my English language ability had grown after one year of study at APU by testing my abilities in an English-speaking region. Second, I looked forward to making new discoveries and was attracted by the possibility of taking part in an externship, seeing as this was just one step removed from an internship, which is an experience I hoped to have at some point in the future.

During the first half of the program, I attended English language classes at a language school established at ODU. Grammar had always been my forte so I was placed into the advanced class, but I struggled to keep up with the other students when it came to speaking and listening, particularly in class discussions. However, after hanging out with local students and classmates and engaging in active exchange, it became easier for me to speak up in class. In addition, students in the program were paired with native speakers as language partners. My partner, a female student, treated me as if I were her younger brother, and her kind and caring attitude left an impression.

In the second half of the program, I was able to participate in an externship. After arrival at ODU, students discuss the sectors and types of work they are interested in as well as their vision for the future with the program coordinator, and the externship location is decided on that basis. As I had expressed an interest in the advertising industry, I was advised that radio stations play commercials between different programs, which linked to my area of interest. As a result, and contrary to anything I could have imagined, I was sent to an iHeartMedia radio station.

An employee of the radio station served as my mentor, and I got to learn how a radio station is operated by switching departments every day and observing many different types of work. When I visited the sales department, I was allowed to accompany a sales representative on a sales call, and observed how the sales representative adjusted the conversation based on the reaction of the customer. In this way, I got a glimpse of the actual work, which was stimulating. When I visited the recording and editing department, I mentioned I was keen to try my hand at editing, and they actually let me help with some editing tasks.

Before participating in the program, I was reluctant to actively express my opinion or feelings. Thanks to the program, I was able to see how expressing myself using language can lead to many opportunities, and as a result I have become more proactive. The externship also helped me discover that what I really want to pursue is probably not advertising but marketing.

Facing the challenges of being an international student

Through my experiences in the US, I was able to understand how hard it is for international students to live as students in a country where the language is different from your own. After my return to APU, whenever I was surrounded by a group of mostly Japanese students and the discussion was conducted mainly in Japanese, I would be concerned about international students with undeveloped Japanese language skills feeling they were left out of the conversation, and would make sure they did not feel alienated.

Leading role in the freshmen English Camp: Passing on my experience to younger students

In the month of March, right before I started my third year, I served as a support student for the English Camp for APU freshmen that was scheduled to be held the next month (April). During the camp, I explained to the students that English is a communication tool, and that they should start out by casually engaging in conversation without hesitation.

I participated in the camp with the hope that sharing my experiences at APU would enable junior students to have access to various information as early as possible, enjoy a meaningful life at APU, and take on various challenges. There was also a part of me that wanted to pass on the support I received from my seniors to junior students through this activity.

Exchange study in Canada: Experiencing the results of past efforts

Starting from the month of September in my third year, I studied at the Faculty of Management at the University of Lethbridge in Canada for a one-year period, focusing specifically on topics such as the retail industry and venture business. In addition to learning about differences in retail store formats and sales methods and how to select locations for retail outlets, I participated in a simulation in which I took on the role of an entrepreneur operating a retail store. Of course, all classes were conducted in English, so I thoroughly prepared for each class and subsequently reviewed class content, and this helped me deepen my understanding of the subject matter. It was the most intense year of study I have experienced to date.

In addition, unlike the international students at APU, Canadian students have no particular interest in Japan. Compared with international students at APU, it was much harder for me to become friends with local students, but I leveraged my previous experience and tried to actively communicate with my roommates by, for example, making Japanese food for them or trying to draw out interest in Japan.

Message to younger students

Before enrolling at APU, I was the type of person who sought approval from others and was concerned about how I was perceived by the people around me. However, in the process of observing people from different countries and their lifestyles as a student at APU, I started to feel that people who are grounded in themselves have an internal spark that shines much brighter than those who pursue their lives worried about what other people think about them. I urge all of the junior students to stand up for their opinions, feel confident in their ideas, take examinations, and get involved in other aspects of student life. I believe such an attitude will ultimately lead to personal growth!
Solaiman's Timeline
I want to explore the globe. I hope to expand my horizons by stepping out into the wider world, rather than staying in one place. My goal is to take an active role in the finance industry in ASEAN and Asia.
THEODORE Solaiman
Republic of Indonesia, College of International Management, 3rd year
Wanting to go abroad and make my way in an unfamiliar world

I was born and raised in Indonesia, with hardly any experience of life beyond my home country. This gave me a strong desire to step out into the wider world, and I hoped to study abroad after completing high school. APU participated in a college fair held at my high school, and I had an opportunity to speak directly with APU staff members and Indonesian graduates of APU. I learnt that APU had a major in the area I was interested in, finance, and above all I was attracted by the environment in which I could live and study together with students from all over the world. I made the decision to apply for APU.

Many Japanese companies are expanding their business in Indonesia, and my own mother had worked at a Japanese company, so my family had no opposition to my decision to study in Japan. They respected my wishes and offered their support. My other option was to go to a university in North America or Europe, but I wanted to study the finance and markets of Asia and ASEAN (Association of Southeast Asian Nations), so I had no doubts that APU was the right place.

Going on exchange to a top-tier Asian university; exploring the discipline of finance

While I was studying accounting and finance in APU's College of International Management, I came across a call for applications for the student exchange program. I decided to apply, thinking that I could extend my knowledge by studying in an Asian country other than Japan. I went on exchange for half a year during my third year at APU, attending the University of Hong Kong's Faculty of Business and Economics. The University of Hong Kong is a leading institution that places among the top universities in Asia in global university rankings*. Like APU, it was a highly diverse environment, with many degree-seeking international students as well as exchange students like me from all over the world. I studied foundational subjects in finance at APU before going on exchange, but I found it tough to keep up with classes dealing with specialized content at the University of Hong Kong. I realized that before going on exchange, it is essential to gain some knowledge of the discipline in which you will be specializing.

It is difficult to make friends in any new environment, but I found my experience at APU useful while on exchange. By pro-actively striking up conversations, opening up and accepting others with a sense of respect, I found that my circle of friends grew. My friends took me to wonderful local spots outside the well-known tourist circuit and helped me enjoy my life outside class. However, I found Hong Kong to be even more of a metropolis than my home town, Jakarta, the capital city of Indonesia. It was packed with high-rise buildings and crowds of people, and sometimes I missed my life in the green, tranquil surrounds of APU.

Also, because I was only on exchange for half a year, I couldn't participate in the same kinds of extra-curricular activities as I did at APU. This made me a little sad, but it also enabled me to concentrate on my studies in finance.

*University rankings produced by the specialist education publication Times Higher Education in the UK, the UK-based university evaluation firm QS (Quacquarelli Symonds), and others.

Applying myself to self-directed activities at APU

Shortly after entering APU, I got involved in activities such as participating in FIRST Kyushu, a program in which English-basis international students form groups to conduct surveys in the Kyushu area, as well as working as an in-class assistant for professors and as a core member of the team running Indonesian Week. I continue to be an active participant in activities outside class, including a member of the APU Local Committee of AIESEC Japan, which is part of the global student internship organization AIESEC and sends APU students on internships to companies and NGOs abroad.

In my studies at APU, I am developing a deeper knowledge in the field of finance. Next summer vacation, on the recommendation of my APU professors, I will be part of the APU team at the CFA Institute Research Challenge 2018, a contest for university students from around the world, organized by the CFA Institute in the United States. We are currently preparing for the local competition stage of the Challenge. Every year, more than 1,000 university students from over 75 different countries and regions participate in the Challenge, using the knowledge they have gained at university to formulate solutions to problems faced by companies and in financial analysis. I really hope to win through in the local competition and go on to the regional and global competitions to take on other students from around the world and achieve good results.

After graduating from APU, I plan to go on to business school in the United States, Europe, or Hong Kong. In the future, I want to apply what I have learned at APU to work in the financial sector in Asia, contributing to the expansion of markets in my home country Indonesia, in ASEAN, and in Asia as a whole.

Message for younger students

Explore the world. Don't stay in one place, and don't set your own limits. Leap out into the wider world! You will discover your own potentials and latent strengths. There is sure to be something hidden within you that you are not aware of yet.
Amantha's Timeline
I am full of dreams. When I imagine a future in which I have made those dreams come true, I get excited. My future is teeming with hope.
WEERASINGHE Amantha Jude
Sri Lanka, College of International Management, 3rd year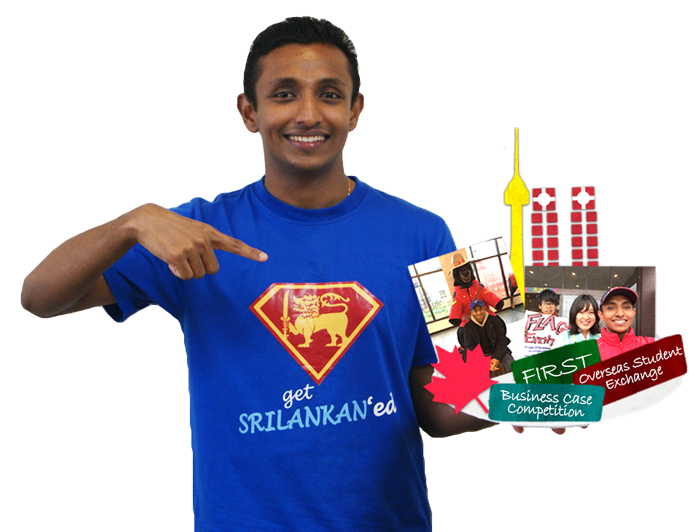 A life changing encounter

In Sri Lanka, there is little interest in studying abroad. Like the other students around me, after graduating high school, I advanced to a university in my mother country. When I was a second-year student at the university, I had an encounter that would ignite a feeling I had deep in my heart to become someone who works on a global stage. At a college fair held in Sri Lanka, I was introducing my own university in a PR booth as a member of that university's student staff. Then, while I was taking a break and walking around, I encountered an older classmate from my high school. Mr. GUNAWARDENA Harin had come to the fair as a member of APU's PR staff. It was through that encounter with him that I discovered APU. The economy of Sri Lanka is currently in its developing stages, with few international enterprises having entered the market there. At the time, I was completely unsure as to whether continuing to study at a Sri Lankan university would enable me to become someone who could play an international role. My encounter with a member of APU's PR staff gave me the determination to withdraw from my university in Sri Lanka and enroll in APU, which is rich in diversity. In Sri Lanka, studying abroad somewhere is usually accompanied with an image of the United States or Europe. Somewhere in East Asia is not even considered. I, however, was attracted to the idea of going to study in a country in East Asia.

An environment where a smiling face is the universal language

I came to APU in order to become an international person. In my eyes, an international person is someone who can work anywhere and with anyone in the world. I want to become someone who can claim to be an international person and not just a Sri Lankan. About 70 students from Sri Lanka are enrolled in APU. I make it a point to congregate with students from a multitude of nationalities, not just those from Sri Lanka exclusively. As first impressions are very important in order to make friends, I make sure that the first impression I give starts with a smile. Being mindful to smile when you talk helps you to become friendly with others. I think that rule applies anywhere in the world.

Japan and Beppu in particular offer an environment where one can live with peace of mind. Today, I have absolutely no problems conducting daily conversations in Japanese. The Japanese-language faculty at APU are wonderful teachers. What's more, I also have the experience of living together in a shared apartment with Japanese APU students. My colleagues where I work part-time are all kind. I teach them English, and they teach me Japanese in return. One of them brings me something to drink when I am tired. She is like a Japanese mother to me.

Studying business management from an international angle

At my university in Sri Lanka, I studied business management in South Asia. At APU, I studied Japanese-style business management. With the desire to make my way to regions other than Sri Lanka and Japan in order to build on my own strengths and further my insight into business management from local perspectives, I decided that I wanted to take part in international exchange with a university in North America. Furthermore, since I was intent on engaging in intensive study, I chose to do so at the Schulich School of Business at York University in Toronto, Canada, which offers business management studies and imposes the highest English-language proficiency requirement on applicants among the faculties and programs at York University. Having successfully cleared the selection process for the Schulich School of Business, starting September 2016, I proceeded to spend a period of eight months in Canada. I had just become a third-year student at APU at the time.

As international exchange students tend to put aside time on weekends to enjoy sightseeing, local students are apparently reluctant to include us in group learning. However, as my goal with study-abroad was studying, I actively took part in group learning with local students on weekends as well.

While I was on international exchange, a Business Case Competition was held at McGill University in Montreal, Canada. I took part in that competition as a member of the APU Team together with other students who were on hand from APU to participate. At these competitions, each team is asked to derive a proposal for solutions to the corporate challenges assigned to that team within the allotted time limit, and make a presentation of that proposal. Sadly, the APU Team was unable to place in that particular competition. I will be participating as a member of the APU Team again at a Business Case Competition to be held at Thammasat University in Thailand this October. This time, we will aim to place high in the competition while competing with university students from around the world.

Many, many dreams await me

When I was a first-year student at APU, I took part in the FIRST Program in Kyushu. In that program, fellow English-basis international students form a group together to engage in research activities in the Kyushu area.

In the FIRST Program, each team has a Japanese teaching assistant, whose main responsibility is to support the team of international students, and my teaching assistant was SAITO Akito; a brilliant sport. I hit it off with my teaching assistant in our program, and we became really good friends. After I left my dorm at APU, I ended up sharing a house with him. That's how close we were. Although my friend has already graduated, we continue to keep in touch even now. As he studied tourism at APU, he and I talked about our shared dream of running a Japanese restaurant in Sri Lanka.

Another person I share a dream with is an older APU alumni who originates from Nepal and advanced to a graduate school in Australia after graduating from APU. We both seek to become business partners and run a business that sells inexpensive but fabulous daily commodities in Sri Lanka and Nepal. If such stores found their way to Sri Lanka, I think that they could be linked to improving the quality of people's lives. Also, not to lose sight of fate leading me to Japan to study, I am also considering finding employment at a Japanese company so that I can try to gain experience. I have no shortage of dreams.

Up to this point, I have participated in a variety of extracurricular activities at APU. That includes serving as a member of FLAG (Fellow Advisor Group) that assists new students in their new life in its capacity as a student peer support group that conducts orientations for new students and serving as the overall leader of a Multicultural Camp that is conducted to facilitate intercultural exchange among students, to name a couple. Even so, what I place the greatest priority on in my university life are my studies. As I will eventually write my undergraduate thesis, I am pouring myself into my academic endeavors so that my thesis is chosen as the Most Outstanding Thesis. Additionally, in order to find employment with a Japanese company, having Japanese-language ability is a must, which is why I am focusing on reinforcing my Japanese-language ability in the fields of business management and economics. That way, I can articulate my opinions in Japanese on areas such as the TPP (Trans-Pacific Partnership) and the future of Japan as a leader in the world economy.

Message for younger students

There are plenty of opportunities to be found at APU. Please make it a point to take on some form of challenge, with international exchange being one possible option. By gaining new experience, you are sure to gain something else as well. Out of the plentiful opportunities to be found at APU, choose one that speaks to you and capitalize on it substantially.
APU's off-campus study program" provides programs catering to each individual's interests and concerns during their four years of study. The first step is to start thinking about what you want to do in the future!
Check out what the program is all about here:
https://en.apu.ac.jp/home/exchange/content15/