Sharing the diversity of the world from APU
One of the highlights of the APU event calendar is Multicultural Weeks. During each week, the language, customs and lifestyle of one of the many countries and regions represented on campus are introduced through a range of colorful events arranged by APU students. Held every year in the spring and fall (May-July, November-January), a delicious array of traditional dishes is available on the cafeteria menu in addition to traditional dance and music performances held throughout the campus and the Grand Show held on the final day of each week.
Kyoto week
is held on Monday, November 6 - Friday, November 10.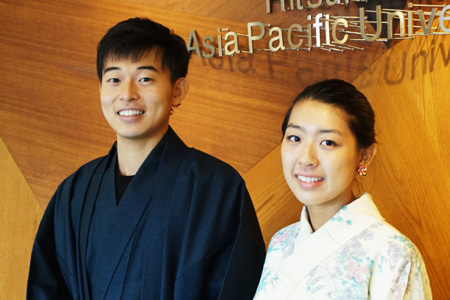 Hello everyone, we're KATAOKA Goki and TAKAHASHI Reina, head organizers of Kyoto Week. For the first time in APU history, Kyoto Week shines a light on Kyoto's cultural aspects for five days from November 6 to November 10. With all of the events held throughout the week, feel free to come and take a look.
We hope that Kyoto Week will give everyone an interest in Kyoto culture, and we'd be so happy if more students go to Kyoto in person to experience it for themselves.
KATAOKA Goki
(College of International Management 2nd year) (Left)
TAKAHASHI Reina
(College of International Management 2nd year) (Right)
Multicultural Weeks, Fall 2017
| | |
| --- | --- |
| 10/23 ~ 10/27 | Beppu Week |
| 10/30 ~ 11/3 | Korean Week |
| 11/6 ~ 11/10 | Kyoto Week |
| 11/29 ~ 12/1 | Fashion Week |
| 12/4 ~ 12/8 | Sri Lankan Week |
| 12/11 ~ 12/15 | Nepali Week |
| 12/18 ~ 12/22 | Myanmar Week |
| 1/15 ~ 1/19 | Taiwan Week |