Sharing the diversity of the world from APU
One of the highlights of the APU event calendar is Multicultural Weeks. During each week, the language, customs and lifestyle of one of the many countries and regions represented on campus are introduced through a range of colorful events arranged by APU students. Held every year in the spring and fall (May-July, November-January), a delicious array of traditional dishes is available on the cafeteria menu in addition to traditional dance and music performances held throughout the campus and the Grand Show held on the final day of each week.
Nepali week
is held on Monday, December 11 - Friday, December 15.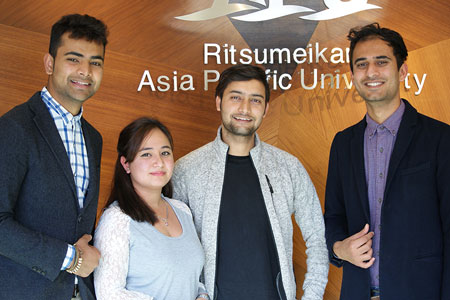 It has been our privilege to show Nepali culture in APU's diverse community since 2012. We express our gratitude for those people who have been encouraging us to present Nepal's traditions, cultures, and festivals by being a part of it, or by watching from the audience. I and other leaders are striving to provide good memories and joyous moments.
Nepali Week is a moment where we get an opportunity to get close to our community despite everyone's busy schedules. This event helps to re-live the moments we used to enjoy back in our country. The hardworking and co-operative team has encouraged me to lead them. I hope everyone will join us to enjoy our cultures and appreciate our hard work.
Sincerely Yours,
DHAKAL DEV Prasad
Multicultural Weeks, Fall 2017
| | |
| --- | --- |
| 10/23 ~ 10/27 | Beppu Week |
| 10/30 ~ 11/3 | Korean Week |
| 11/6 ~ 11/10 | Kyoto Week |
| 11/29 ~ 12/1 | Fashion Week |
| 12/4 ~ 12/8 | Sri Lankan Week |
| 12/11 ~ 12/15 | Nepali Week |
| 12/18 ~ 12/22 | Myanmar Week |
| 1/15 ~ 1/19 | Taiwan Week |