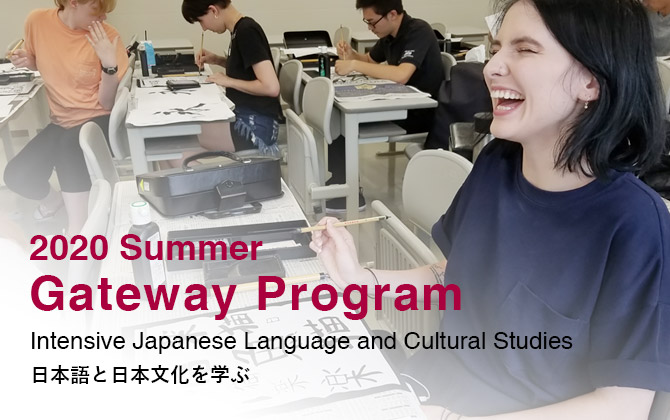 Ritsumeikan Asia Pacific University (APU) invites you to the Gateway Program. This program offers an eight-week long intensive creditable Japanese course with twelve 95-minute classes per week and practical Japanese cultural activities. Students from overseas or Japan whose native language is not Japanese are welcome to apply.
Built by the Ritsumeikan Academy, which has a history of over one hundred years, APU is Japan's first truly international university. Our campus overlooking Beppu Bay plays host to students from ninety countries and regions who contribute to making APU a multicultural campus. Come and enjoy APU and Japanese culture with university students from around the world.
- Japanese Language Studies -
The most effective way to learn a language is by living and studying in the country where it is spoken! It is often not enough to simply study a language in your own country.
At APU, you will have the best opportunity to improve your Japanese as you will be able to practice firsthand what you learned in the classroom by speaking with APU students and locals in the community. The Japanese language course is intensive (twelve 95-minute classes per week), but our experienced instructors will help you understand the materials quickly in order to proceed to the next language level.
- Japanese Cultural Studies -
Explore Authentic Japanese Culture
The city of Beppu is very welcoming to international students and provides an alternative experience to one found in major cities. Students are encouraged to go out into the local community and put their new language skills to use.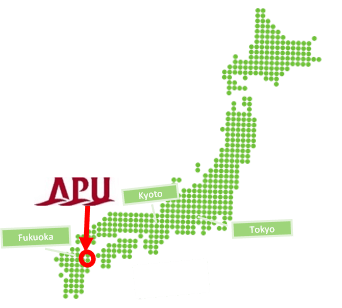 Activities and Excursions
The Gateway Program offers various cultural activities and excursions such as on-campus cultural activities and an overnight trip to a historical city in a different area of Kyushu! We will introduce you to some of the most popular activities as reported by the past participants.
▼ Farm-stay in Bungotakada
"The farm-stay in Bungotakada allowed us to experience authentic farm life in rural Japan. It was one of the best experiences!"(2015)
"The farm-stay activity was a really unforgettable experience. It taught us about Japan's unique culture deeply."(2015)
"I really liked the bamboo crafts and drumming even though it was very hot. I didn't mind the heat because it was so much fun."(2018)
"The farm-stay experience was amazing. Getting to live in the countryside for the weekend, having self-grown vegetables for dinner: those are things I can't experience in my home country."(2019)
▼ Overnight Trip to Nagasaki
"The Nagasaki field trip enabled me to learn so much of the culture and the meaning of peace."(2011)
"The Nagasaki trip was great because it exposed us to the unique intra-city culture of Nagasaki. The atomic bomb museum is an important icon of the world that everyone should see, and I am glad that this program gave us that opportunity."(2011)
"Nagasaki had many cool cultural and historical places."(2015)
"We got to visit one of the most beautiful cities in Kyushu."(2018)
▼ Elementary School Visit
"I absolutely had a blast at the elementary school! The facilities and activities that took place in the Japanese primary school were completely different from those in my home."(2011)
"The elementary school visit was the best way for us to test our basic language skills."(2015)
"The elementary visit was the best. Being able to interact with the kids was very cool."(2015)
Participants wanted!
Program Period: Thursday, May 28th – Friday, July 31st, 2020
Application Deadline: Monday, March 16th, 2020 (JST)