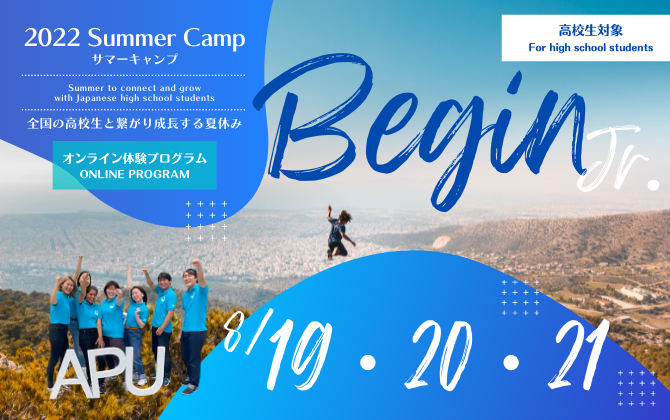 We are now accepting applications for the BEGIN Jr. Program, which will be held from August 19 to August 21, 2022.
Basic Education Growing Infinity Nexus, or the BEGIN Jr. Program, is a program based on the concept of "infinite mutual growth through basic learning at APU." The BEGIN Jr. Program is a three-day online program that aims to help students learn the skills and attitudes necessary to become global citizens. Participants will learn a variety of skills through five missions, and in the end will use these skills to design an image of their future ten years from now.
Click here to watch the video.
1. What kind of participants are we looking for?
People who want to rethink their future paths.
People who want to deepen their self-understanding.
People who are eager to learn new things and find enjoyment in doing so.
People who want to take positive action.
People who want to connect with others with high aspirations.
2. What skills will you learn during the program?
Discussion skills
Through discussions with participants from various backgrounds, acquire the skills necessary to facilitate discussions.
Understanding of diversity
Be able to accept and respect different values and ways of thinking.
Teamwork skills
Be able to work together as part of a team to achieve a single goal and be able to accomplish things with a sense of responsibility until
the end.
Ability to find and solve problems
Be able to consciously observe your surroundings, discover problems, pursue the causes of the problems, and work to solve them.
Presentation skills
Become familiar with public speaking and acquire the skills necessary to give effective presentations.
3. Eligibility Requirements
Eligibility: High school first years to seniors
Number of applicants: 48
Applicants must be able to use a computer to participate in the program (no smartphones).
Other Information
Since the mission will be carried out using online tools such as Zoom and Miro, participants must use a computer or tablet to participate in the program. An adequate internet connection is also required to participate.
4. Schedule:
Pre-program meeting
Sunday, August 7, 2022, 19:00–21:00
BEGIN Jr. Program
Friday, August 19, 2022, 09:30–20:00
Saturday, August 20, 2022, 09:30–18:00
Sunday, August 21, 2022, 09:30–20:00
5. Participation fee
10,000 yen (tax included)
6. Application period
Wednesday, June 1, 2022–Sunday, July 3, 2022 23:59
If you have any questions about this program, please contact the following.
Ritsumeikan Asia Pacific University
Office of Domestic Admissions
Phone: 0977-78-1120 (09:00–17:30, weekdays)
Email: apumate@apu.ac.jp
Contact: Matsumoto, Yoshitomi, or Nakane