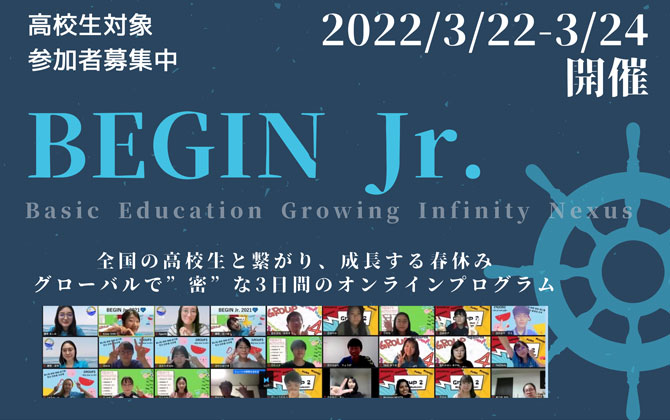 From March 22, 2022 to Thursday, March 24, APU will hold the BEGIN Jr. Program, an online program aimed at Japan's high school students. We will be recruiting students for this program until February 11.
The BEGIN (Basic Education Growing Infinity Nexus) Jr. Program, based on the concept of "infinite mutual growth through basic learning at APU," aims to teach participants the necessary skills and attitudes for global citizens through the experience of becoming a peer leader at APU. Through 7 missions, participating high school students will learn to accept diverse values and achieve their set goals through problem-based discussions and presentations. Supervising professors and a diverse group of student Teaching Assistants (TA's) will facilitate and support participants throughout the entire program,
Program Outline
Program: Tuesday, March 22, 2022 – Thursday, March 24 (3 days)
Participation fee: 10,000 yen
Venue: online(Zoom,Miro)
Language: Japanese (excepting interaction with international students)
Eligibility: High school students only. Must be of Japanese nationality or a permanent resident of Japan. Maximum of 48 participants. (If there are a large number of applicants, selection will be based on the content of applications.)
Participation requirements: Must attend the pre-program meeting and all 3 days of the program. Must be able to use a PC or tablet and have stable internet connection.
Pre-program meeting: Wednesday, March 16 from 19:00
Application deadline: Friday, February 11
Application: http://r.apu.jp/begin0322_0324
Main content of the program
Course on how to use Zoom
Icebreaker with TA's
Self-assessment
Group discussions and presentations
International exchange with APU students
Lectures by APU alumni
Free talk
What kind of participants are we looking for?
People who are eager to learn new things and find enjoyment in doing so
People who want to be proactive
People who want to connect with others with high aspirations
People who want to think about their future
People who want to deepen their self-understanding
▼Official APU site for examinees
https://www.apumate.net/
▼If you have any questions about this program, please contact the following.
Ritsumeikan Asia Pacific University
Office of Domestic Admissions
Phone: 0977-78-1120 (weekdays 9:00–17:30)
Email: apumate@apu.ac.jp
Contact: Morisawa, Shiga, or Nakane