Since the inaugural Tenkusai in 2003, the annual autumn campus festival has become a regular feature on every APU student's calendar and regularly attracts 20,000 event-goers.

When it was held this year on October 27-28, the event marked its 10th anniversary.

Traditional and contemporary song, dance and live performances are just some of the main attractions of the Tenkusai Festival. Campus festivals in Japan typically include performances by invited pop singers, comedians or other TV celebrities. However, at APU the Tenkusai provides a venue for own homegrown talent to perform and demonstrate just how much time and effort our students have put into their extracurricular, circle and club activities.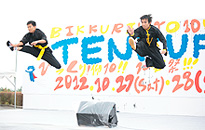 Students display a high-kick as part of the Vietnamese traditional martial arts performance.
Tenkusai is also a place for sharing extracurricular achievements, including this salsa dance performance.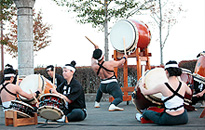 A powerful performance by Wadaiko Raku, the APU Japanese drumming troupe.
Other features of the Tenkusai are the flea markets and food stalls put on by student clubs and volunteers offering yakisoba, takoyaki and other Japanese festival favorites, and also ethnic dishes from all around the world. With around 50 stalls organized, this year's Tenkusai was the place to taste some of the world's "B-grade gourmet".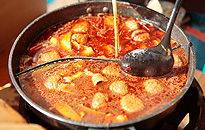 Experiencing some of the world's "B-grade gourmet".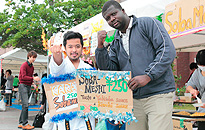 'Soba-Meshi' (noodles & rice) by the APU Karate Club.
Indonesian-style chicken ramen.
This tasty addition to Japanese noodles proved very popular, as the queues of students proved.
The festival also featured exhibitions by student groups involved in volunteer activities, goods and produce displays by local communities, projects by Ritsumeikan University student groups, and a colorful fireworks display on the evening of the second day.

More information and images taken from the festival are available on the APU student website 'For APU Students, From APU Students'. So please be sure to check out this website if you couldn't get along to the festival.