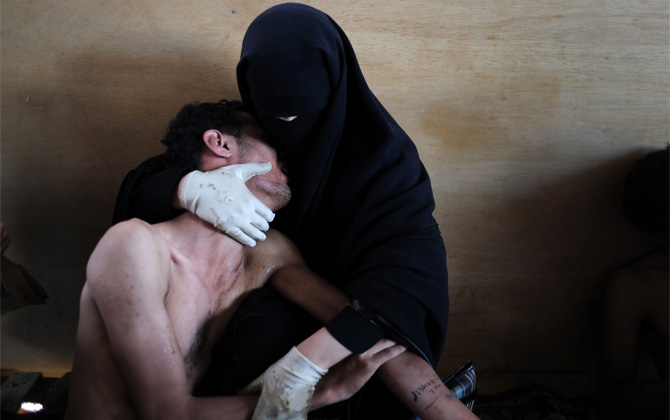 Listening to the heartbeat of the earth

The World Press Photo 12 Exhibition was held at APU from Sunday, November 4 until Sunday, November 18. Held in approximately 100 cities in 45 countries around the world, this was the exhibitions only visit to Kyushu.

World Press Photo is an annual exhibition run by an Amsterdam-based non-profit foundation of the same name and features award-winning photographs from the World Press Photo Content. Now in its 55th year, the exhibition is a showcase of some of the world's very best in photojournalism. APU also hosted this exhibition in 2000 and every year since 2003.

The exhibition featured nine sections including contemporary issues, people in the news, portraits and sports. This year the exhibition received 101,254 submissions from 5,247 photographers in 124 countries/regions. The exhibition itself featured approximately 170 images from 56 selected photographers including Samuel Aranda's "Photo of the Year" winning image of a woman holding a man injured during the Yemeni uprising, and images taken during the North Africa and Middle East pro-democracy demonstrations, the aftermath of the Great Tohoku Earthquake and Tsunami, and other snapshots of the world in 2011.

Opening on November 6 at the Tokyo Metropolitan Museum of Photography, the exhibition was on show at Osaka, Kyoto (Ritsumeikan University Kyoto Museum for World Peace), Shiga Prefecture (Ritsumeikan University), and at APU – the exhibition's only showing in Kyushu.

The World Press Photo proved to be a great success and was viewed by a total of 2,672 visitors. Thank you to everyone who came along.

WORLD PRESS PHOTO OF THE YEAR 2011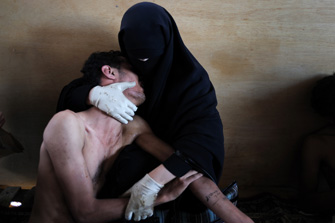 Samuel Aranda
Spain, for the New York Times

Fatima al-Qaws cradles her son Zayed (18), who is suffering from the effects of tear gas after participating in a street demonstration, in Sanaa, Yemen, on 15 October. Ongoing protests against the 33-year-long regime of authoritarian President Ali Abdullah Saleh escalated that day. (Sanaa, Yemen. 15 October 2011)
TO LIST PAGE