From Wednesday November 19 to Sunday November 30, 2008, the 2008 World Press Photo Exhibition is being held at the APU Convention Hall.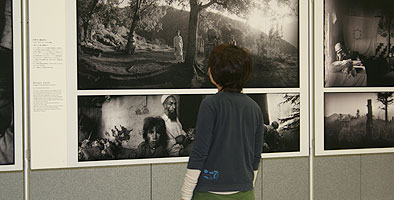 The World Press Photo Exhibition is held every year by the World Press Photo Foundation (based in Amsterdam, Holland). Two hundred photos selected at the World Press Photo Contest are put on display at this exhibition which visits 100 centers around the world. This year's contest received a record total of 80,536 photos from 5019 entrants from 125 countries.
The photos on display are compiled from 10 categories such as art, sports, current social issues and the environment. Through these photos we can get an insight into the various issues the world is facing. Also, the corner entitled "Mourning 'NAGAI Kenji's Work'" has been set up to display the works of NAGAI Kenji taken during his life in Palestine, Iraq and Thailand. NAGAI Kenji was a journalist who was shot dead in September last year while capturing images of the violence in Myanmar.
The World Press Photo Foundation is a non profit organization established in 1955 and aims to promote photojournalism and encourage photojournalists. They also hold education programs for up-an-coming photojournalists on a world-wide scale as well as contests and photo exhibitions.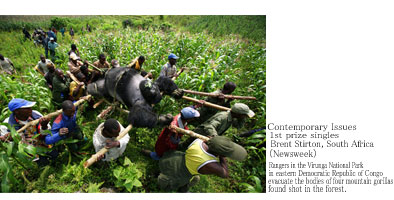 Time:
November 19 (Wed) – November 30 (Sun) 10:00 - 17:00
(Entry closes at 16.30, open every day during these dates)
Place:APU Convention Hall (2F, Administration Building)
Entry:Adults: 500yen, junior & senior high school students: 300yen,
elementary school students: free
Hosted by:
Asahi Shimbun Company,
World Press Photo Foundation,
Ritsumeikan Asia Pacific University