On Thursday November 13, 2008, the "APU Seminar at Ritsumeikan Tokyo Campus" was held at the Ritsumeikan Tokyo Campus.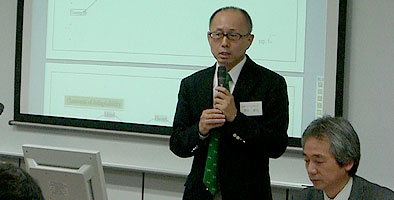 Approximately 60 people involved with human resources and human resource development attended the keynote presentation entitled "Global Business and Foreign Human Resources - APU's initiatives & advanced case examples and Future Issues" and discussion panel. Mr. NAKAHARA Hiromichi of the Ministry of Economy, Trade and Industry (METI), Economic and Industrial Policy Bureau, and who is also in charge of the "Career Development Program for Foreign Students from Asia" which is also being run at APU, spoke of the expectations of this program and METI's policies and initiatives relating to the development of human resources. Waseda University Faculty of Political Science and Economics, Dean, Center for International Education, Professor SHIRAKI Mitsuhide and APM Professor YOKOYAMA Kenji gave a report of university initiatives; and Mitsubishi Corporation, General Manager Global HRD Office, Center for Human Resource Development, MATSUDA Toyohiro and Fujitsu Limited, Director Human Resources Management Div. Recruiting Center, TAGOMORI Kizou gave examples from the business sector.
During the discussion panel, Mr. MATSUDA, Mr. TAGOMORI, Professor SHIRAKI and Professor YOKOYAMA appeared as panelists and gave a lively exchange of opinions mixed with opinions and questions from the crowd which was coordinated by APM Professor UCHIDA Yasuo. After the discussion panel the group enjoyed a social chat which took the form of a seminar-style lively exchange of information and opinions, and also deepened their friendship.