The Latin American Week began on Monday December 1, 2008, and has immersed the APU campus in Latin American culture.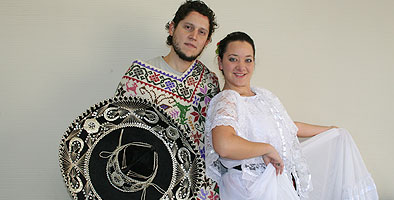 Every year APU holds Multicultural Weeks to introduce the culture and language of the students studying here from 87 countries and regions around the world. In the 2008 Spring Semester, 5 countries/regions were introduced over approximately 1 month such as Chinese Week and Thai Week. During the Fall Semester, countries and regions such as Japan and Taiwan will be introduced starting with Latin America Week.
During Latin America Week, the Cafeteria will be decorated with Latin American ornaments and there will be an abundance of Latin American dishes seldom seen in Japan such as Mazamorra Morada (a Peruvian dessert) and the others. On Friday 5 (the final day) there will be a 'Final Performance' at the Millennium Hall. You will be able to see powerful performances such as samba and belly-dance displays performed to Latin music. There are currently 25 international students studying at APU hailing from 12 Latin American countries such as Mexico, Cuba and Ecuador. This is the first Latin American Week and will run till Friday 5.
Schedule for Latin American Week. (Dec 1 –5)
December 1 (Mon) –5 (Fri)
Cafeteria decoration and Latin American Food,
December 5 (Fri) 18:30 –20:45
Final Performance, Venue: APU Millennium Hall