On Tuesday November 18, 2008, Senior Counselor, Jokei AKITANI; Senior Managing Director, Takao IMAMURA and Officer, General Manager Personnel & General Affairs Dept. Arata KOBAYASHI of The Nisshin OilliO Group, Ltd. visited APU.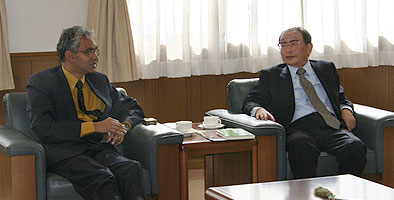 The group came to APU to inspect the learning environment and enjoyed a chat with President Monte CASSIM, Dean, Career, FUKUTANI Masanobu and Education Development Study Support Center Professor, TAKANO Kenji. Three international students aiming to gain employment in Japanese businesses also attended what was a lively exchange of opinions. Afterwards, the group observed APM Professor YOKOYAMA Kenji's lecture; inspected the cafeteria, AP House -the students' living space, and the Library. They were able to see students developing through their studies at APU.
During their chat, the students were asked bout the employment situation in their home countries by Mr. AKITANI and they answered "there is a sense of security in the Japanese employment system which allows you to gain employment even before you have graduated." and "I want to emulate the unique Japanese corporate culture which values industrious teamwork." One student spoke of what they learnt through their internship "For international Students, it is also important to gain an understanding of Japan". "I think that the difference between doing a good job during your life as a student and once you are employed, is that you have to do so within the framework of the business."
The Advisory Committee -an organization set up at APU to support this university -currently has 76 ambassadors from various countries and regions in addition to members of the Japanese government and business worlds. Mr. AKITANI became a new member of the Advisory Committee in July 2008.