On Wednesday November 19, 2008, an Environment Seminar was held jointly by Oita Bank Co., Ltd and APU at the Oita Bank Building of Red Brick. APU Professor SANGA-NGOIE Kazadi, Dean International Cooperation & Research acted as speaker of the seminar.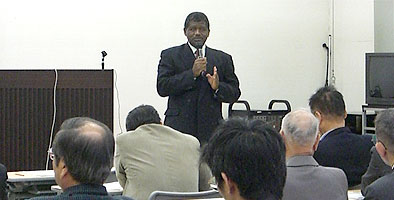 Professor SANGA-NGOIE spoke on the theme of "Thinking about the current state of global warming and countermeasures." He spoke about the importance of countermeasures on a global scale in order to confront the increase of land loss due to rising ocean levels, extreme weather and desertification using various sources looking at the effects caused by global warming from several perspectives. He also gave several real-life examples to the seminar participants of what they can do to on a small scale in order to prevent global warming, and emphasized that "It is important that each person understands what they need to do, and takes action."
Next, Mr. KANBARA of the Oita Prefecture Living Environment Department, Living Environment Planning Division, gave a report of what measures have been taken in Oita Prefecture and gave several examples of what citizens of the prefecture can do now in order to reduce CO2 emissions. Furthermore, the Chief Manager of the Sales Department at OC Travel Co., Inc., Mr. TSUSUE introduced several travel packages available which take advantage of CO2 emissions trading as a concrete example of what can be done from a business perspective. The seminar participants listened intently to the talks and a barrage of questions were exchanged at the Q&A session, making this a seminar which clearly showed the high amount of interest people currently have in environmental issues.
In July 2007 APU and Oita Bank Co., Ltd concluded a coordination and cooperation agreement aiming to contribute to regional development and the nurturing of human resources. We hope to see further coordination and cooperation in the future.