From Wednesday November 26 to Saturday 29, 2008, 119 5th graders from Ritsumeikan Primary School stayed at APU and APU international students acted as "buddies" to support them during their lives on campus.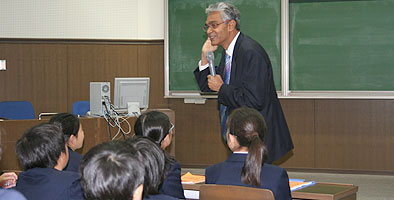 A welcome party was held on the 26th where President CASSIM gave a simple introduction about APU and offered some advice to the children "Please enjoy yourselves and have fun with the APU international students acting as your buddies." Following that, 2 representatives from the group of children expressed their thanks for the welcome and their enthusiasm about the camp by saying in English, "We have been preparing and practicing for our Presentation and Performance on stage. We hope these four days will be a good experience for us all."
Next, the students were introduced to their buddies for the APU Camp. The international students were welcomed with a hearty applause from the children and when the buddy for each group was introduced, the students were seen waving at one another, shaking hands and trying to communicate in English.
At a presentation held on the 27th, the children used both Japanese and English to the best of their ability to present the results of a survey they had conducted with the international students on the theme of "Is Japan an easy place for international students to live?" Both Associate Professor ARII and Professor WATANABE commented and gave praise to the children's work.
Later, the group deepened their friendships with their buddies through activities at the Beppu Municipal Camp Site "Ojika" and a stage presentation at APU's Millennium Hall. In September of this year, APU international students also participated in "World Week" at Ritsumeikan Primary School and we can expect to see more such events which cross the lines of age and nationality in the future.
The home page of Ritsumeikan Primary School can be found
here
.