Mongolian Week began on Monday December 8, 2008, and has immersed the APU campus in Mongolian culture.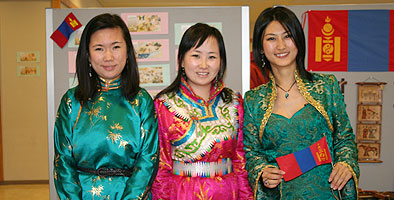 Every year APU holds Multicultural Weeks to introduce the culture and language of the students studying here from 87 countries and regions around the world. In the 2008 Spring Semester, 5 countries/regions were introduced over approximately 1 month such as Chinese Week and Thai Week. During the Fall Semester, countries and regions such as Japan and Taiwan will be introduced starting with Latin America Week.
During Mongolia Week, the Cafeteria will be decorated with Mongolian ornaments and there will be plenty of Mongolian national dishes available. There will also be a range of events such as a mini-concert, a screening of a movie about the life of Chinggis Khaan (aka Genghis Khan) –the hero who united Mongolia– and a basketball game –a popular game in Mongolia. On Friday 12 (the final day) at the 'Final Performance' you will be able to see magnificent student performances such as traditional Mongolian dance and music performances and a Mongolian folk costume fashion show.
There are currently 103 Mongolian international students studying at APU. This is a great chance to experience and deepen your understanding of Mongolian culture through this Multicultural Week. Mongolian Week will run until Friday 12.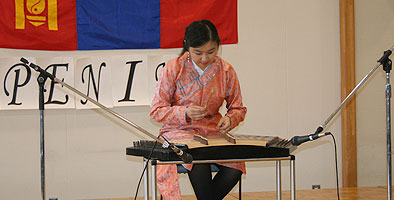 Schedule for Mongolian Week. (Dec 8 –12)
Monday December 8 – Friday 12
Mongolian national dishes (Cafeteria)
Mongolian folk costume, traditional musical instrument and Mongolian stamp displays (Cafeteria) until Thursday.
Monday December 8, 12:30 –13:30 Mini-concert (Cafeteria)
Tuesday December 9, 14:15 – Movie screening:"To the Ends of Earth and Sea" (Building F, F106)
Wednesday December 10, 12:30 –16:00 Basketball match (Gymnasium, Sports Arena)
Friday December 12, 18:30 –20:45 Final Performance (Millennium Hall)