On Friday November 28, 2008, the APU Comic Storytelling Institute hosted "Tenku Rakugo Event" was held at the Student Hall.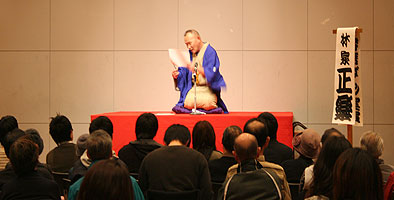 The Tenku Rakugo Event provided an opportunity for APU students and members of the public to enjoy live Rakugo (a traditional Japanese style of comic storytelling). This free performance was made possible through the cooperation of the Oita Waraoukai and Rakugo-Kyoukai who approved of the performance's aim of deepening people's understanding of Japanese traditional performing arts. Three comedians performed starting with Rakugo-Kyoukai Executive Director, Master YANAGIYA Gontaro, Master HAYASHI Shoraku with his paper cutting and KAGAMISENZABURO Shachu who all had the crowd in fits of laughter.
Master HAYASHI Shoraku had the crowd laughing with his skillful comical styles while he performed his paper cutting skills with a musical accompaniment. The crowd gave a huge applause as he answered their requests and whipped up paper cuttings of "Yokozuna entering the ring", "the Battleship Yamato" and "husband and wife turtles" with his ingenious use of scissors. Master YANAGIYA Gontaro performed "Kasago" and had the crowd laughing from start to finish with his comic storytelling skills. Many people came along to the Tenku Comic Storytelling Event which was also enjoyed by many locals and international students regardless of age, gender or nationality.
Looking back on the "Tenku Comic Storytelling Event", SUMIMOTO Kenji (APM2, Japan) spoke of his ambitions for the future as the representative of the APU Comic Storytelling Institute: "The Tenku Rakugo Event was the biggest event we have put on since the establishment of the APU Comic Storytelling Institute. We all had our worries as this was the first time for all of us and we were performing with professional entertainers. But it went off without a hitch thanks to the cooperation we received from many people. I want to remain active so that even just one more person comes to know the greatness of Rakugo".
The APU Comic Storytelling Institute was established in 2005 and is the only university rakugo institute of its kind in Oita Prefecture. There are currently 14 members including 2 international students and 3 females who practice 2 times a week in the Japanese style room. To date they have given shows at such places as town halls, primary schools and retirement homes.