On Tuesday December 2 and Wednesday 3, 2008, 5 trainees from the Republic of Indonesia came to APU to participate in the Indonesian IT Human Resources Training Program.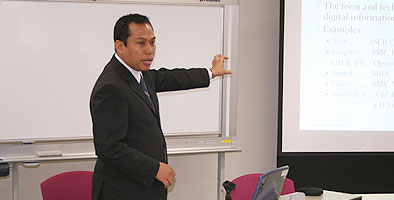 During their time at APU the trainees attended lectures to enhance their team competencies and capabilities especially in Information Technology governance and leadership. When the group arrived at APU on December 2, they received a welcoming address by Dean, International Cooperation & Research, Professor SANGA-NGOIE Kazadi and after an introduction of APU got straight into a lecture given by APM Professor NAKATA Yukihiko entitled "Technology Management". On Wednesday December 3, the group attended lectures relating to IT by various Professors including APS Senior Lecturer DAHLAN Nariman who gave a lecture entitled "Multimedia and Interface Design". The participants were seen listening intently to the informative presentation.
On Thursday December 4, the group went on a field study trip visiting Oita's core information technology facilities such as Oita Prefecture & Institute for Hyper-Network Society and the Fujitsu Oita Software Laboratories, Ltd.
The group was in Japan until Saturday December 6 before returning to Indonesia.
This was the first Indonesian IT Human Resources Training Program and came about through the proposal of APS Senior Lecturer DAHLAN Nariman. Through this training program we hope that the academic cooperation between APU and Indonesia will become even stronger.