On Friday December 5, 2008, Former Honorary Secretary of the Australia International Council on Monuments and Sites (ICOMOS) Mr. MARSHALL Duncan delivered a lecture entitled "World Heritage and its application for Community Development" at APU Building H, H 102.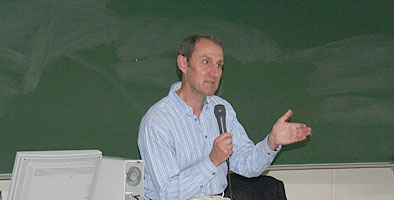 During his lecture Mr. MARSHALL talked about the ideology, framework, process and issues relating to world heritage and introduced a range of heritage sites to illustrate their local, national and world-wide value such as the Sydney Opera House and Toudaiji Temple. During his lecture Mr. MARSHALL described the salvaging of the Temple of Abu Simbel (Egypt) in 1964 which was going to be submerged as the result of the construction of the Aswan High Dam: "There was world-wide concern for this temple which sparked a massive international effort to relocate it to safety. The temple was eventually relocated to safely 65 m higher and 200 m back from the river. About 50 countries cooperated in this process which was one of the first contemporary examples of international cooperation to preserve cultural heritage."
At the conclusion of his lecture there was lively Q&A session and the participating students asked some very good questions. One student asked, "You mentioned in your lecture that the world heritage list is unbalanced. In what way do you think that it is unbalanced?" to which Mr. Marshall answered, "Not all sites can be on the list which is meant to reflect the world's cultural heritage. Therefore, it is important that the list is a true reflection of the cultural heritage of the whole world and doesn't value certain types of heritage over others" The lecture proved to be a valuable opportunity to gain an insight into the vulnerability of the worlds precious heritage sites and the implications for society.