On Saturday, December 6, 2008, the "Kyushu Intercollegiate Road Race" was held in Shimabara City, Nagasaki Prefecture and APU was represented by two teams from the APU Women's Athletic Team. WANJOHI Mary Wangari (APS4, Kenya), who holds the student record for the 5000 meter run, lead the A team to a great finishing time of 1:03:36 giving APU it's fifth consecutive championship at the event.
WANGI Mary Wachuka (APS4, Kenya) lead with a great run and headed the pack the whole way before handing on the sash to the second runner. From there on APU's lead steadily grew. Ms. WANJOHI showed her overwhelming strength as she ran the anchor position of 5.52km in a record time of 17:42. It was a great result for APU –winning 4 of the 5 sections –with the second place team coming in 3 minutes behind.
The B team finished in 4th place with a respectable time of 1:08:16 –a result which shows we can expect great things from them in the future.
Looking back on the day's results, Coach KITAYAMA spoke of his joy at winning and the and his aspirations for the future, "I am very pleased that we were able to rival our best time and take home our fifth consecutive victory considering the mountainous and snowy conditions. But we have room for improvement if we want to compete on the national level. I believe the girls can do it."
This was the last event for Ms. MWANGI and Ms. WANJOHI after 4 years as a runner here at APU. From here on the Women's Athletic Team hopes to keep up the hard work and bring home more wins in the future. Thank you very much everyone for your support!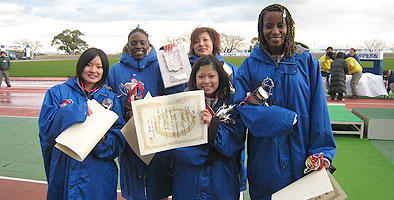 Results of the 8th Kyushu Intercollegiate Road Race
(APU, A Team) First Place 1:03:36
WANGI Mary Wachuka (APS4, Kenya) first in her leg
OKI Misato (APS2, Japan)
HIRATA Emi (APS3, Japan) first in her leg
TSUCHITORI Chiaki (APS1, Japan) first in her leg
WANJOHI Mary Wangari (APS4, Kenya) first in her leg
(APU, B Team) 1:08:16 (Participated in the open event)
NJUNGE Catherine W. (APS1, Kenya)
MWANGI Miriam Njeri (APS3, Kenya)
FUKUHARA Kayo (APS1, Japan)
TANAKA Ami (APS2, Japan)
OMICHI Yuka (APS3, Japan)