On Sunday, December 7, 2008, The APU Rugby Club (2nd in the Kyushu 3rd Division) put in a great performance brushing off the University of Kitakyushu Rugby club of the 2nd division with a 43:38 victory at the Kyushu Region University Rugby League relegation match held at the Fukuoka University Ground.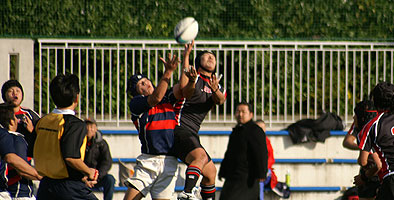 The Kyushu Region University Rugby League is divided into 3 divisions and each division is divided into 5 areas: Fukuoka, North Kyushu, Central Kyushu, South Kyushu and Okinawa. To date, APU has been playing in the 3rd Division of the Central Kyushu area.
The Rugby club, established in 2002, currently has 32 members including the manager. Since its inception, the training has been carried out mostly by students however, since 2007 we have begun to see experienced Oita Prefecture rugby players giving a hand as instructors. In 2008 the club booked its first victory at an Division 3 area league match and then went on to appear in the Kyushu Area 3rd Division League Tournament. The club placed 2nd and as a result of the relegation match has been promoted into the 2nd Division.
Rugby Club representative UCHIBORI Yasuhiro (APM3, Japan) spoke of his joy at being promoted to the 2nd Division, "It has been our goal to rise to the 2nd Division since our club's inception. All our members are thrilled that we have made it into the 2nd Division. Our goal next year will be for an even bigger jump up into the 1st Division and we will continue our daily practice." We can expect big things from the club in the future.
The APU Rugby Club web-site
http://www.apurugby.com/