On Thursday, December 18 and Friday 19, 2008, the "4th Seminar Convention" was held at APU in which students from various seminars presented their research findings.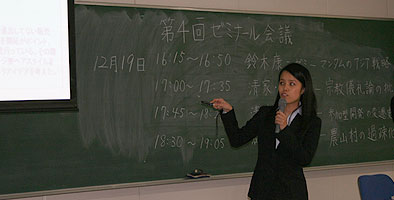 The Seminar Convention, now in its 4th year, has been held every year since 2005 as a place for students to present their research findings. The seminar aims to increase students' academic awareness and revitalize exchange crossing faculties and seminars.
On Thursday 19, KAWATSU Yukihiro (APS3, Japan) and TSUJI Asuka (APS3, Japan) of SUZUKI Seminar made a presentation about marketing strategy under the theme of "Mondom's Strategy in Asia" in which they presented the findings of their on-campus questionnaire and analysis of the results of their visit to the Mondom Corp., Indonesia branch office.
The conference was opened widely to the public as a place for students to present their research findings and for the public to learn about what APU students are researching. Many members of the general public were seen in attendance with APU students who listened keenly. Furthermore, a Seminar Presentation was held at the Ritsumeikan University Biwako-Kusatsu Campus and 4APU students participated to present their findings.