APU opened in April 2000 through a public-private partnership between the Ritsumeikan Trust, Oita Prefecture and Beppu City. From the time of its inception, APU, based on a vision of "Freedom, Peace and Humanity", has worked towards fostering international mutual understanding and human development to shape the future of the Asia Pacific region.
I offer my sincere thanks to those who have supported our university to date through their wide-ranging support and financial backing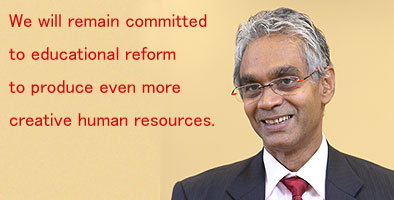 There are presently 5,968 students enrolled in APU, including 2,815 international students from 87 countries and regions around the world. At APU the Global Business Leaders Development Program (GBLP) is designed for high-caliber international students who wish to work for Japanese companies, to train international business leaders capable of connecting Japanese and overseas industries. Through this project, APU, in cooperation with companies, offers professional training and assists students in the job-hunting activities.
Since AY2003,the first year for the university to have students enrolled in all its four-year undergraduate courses, APU has been selected for 14 of the Ministry of Education, Culture, Sport, Science and Technology's(MEXT) programs beginning with "Good Practice". APU's educational and research excellence is widely recognized. APU's greatest strength lies in its realization of an environment that fosters a wealth of creativity through interaction with various cultures, academic interests, and values, as well as assimilating into the community, while providing internationalism and diversity.
APU will celebrate the 10th anniversary of its inception in 2010. For APU the next decade will involve further leaps in progress, building on the achievements of the past. We will remain committed to educational reform to produce even more creative human resources. Furthermore we feel that APU can fulfill a major role as a global research hub in solving the many pressing global issues the world is faced with. At APU we are determined to contribute to solving these issues by conducting joint research across disciplinary boundaries in cooperation with industries and government.
We would like to request your continued support and advice as we reach our second beginning here at APU and sincerely hope that we will have opportunities to make many new connections in the years to come.