On the afternoon of Wednesday 27, a ceremony was held in the APU Convention Hall to honor the students who served as cultural advisors to Tsurumi and Kamae Town last year and to appoint new advisors for the current academic year.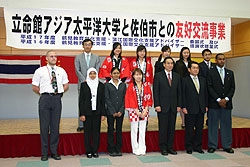 APU signed a friendship exchange agreement with Tsurumi in July of 2003. As part of this agreement, international students from APU are appointed "educational and cultural support advisors"- cultural ambassadors who help foster cross-cultural awareness in the town. Their duties include conducting classes on language, culture and history at Tsurumi's elementary and junior high schools. Last year, the advisors participated in an Information Education Presentation and Nature Experience Class.
APU also signed a friendship agreement with Kamae in April 2004. International students from APU are appointed "International Cultural Support Advisors" and aim to deepen international understanding in Kamae Town through participation in peace oriented lessons and summer school etc.
In the ceremony, the Head of the Education Board Mr. TAZAKI Makoto presented a certificate of appreciation to students who served as advisors in the previous academic year, and a certificate of appreciation was presented to the APU registered group, Education Network for their support and cooperation to events during the school calendar at Tsurumi. The responsibilities were passed onto the newly appointed advisors for this academic year.
Tsurumi Town's new educational and cultural support advisors for 2005 academic year are as follows:
Reky Suarima Martha (APS 2, Indonesia)
WANG Jun (APM 3, China)
DHARMAKEERTHI, Maggonage M. Y. (APM 3, Sri Lanka)
CHALINRAT Patchamone (APS 3, Thailand)
Kamae Town's new international cultural support advisors for 2005 academic year are as follows:
BAEK Soo Jeong (APS 3, Korea)
BAJRACHARYA Ashok (APS 2, Nepal)
YANG Jun (APM 3, China)