Only one week to go before APU's Spring Olympics!
At this athletics meet there will be something for everyone – with the usual Sports Day events along with nations and circles competing against each other in original races and games. APU Olympics aims to bring domestic and international students, as well as new students and members of the public together for friendly exchange through sport.
The main attraction of this year's meet is the World Champion Relay Race in which different nationalities will be represented. This race will be divided into six teams based on the five continents of the world (Eurasia, Africa, North America, South America and Australia) and a mixed countries team. In the APU spirit, we hope this to be a new kind of sports event that will also include the Sweden Relay Race. Four people will make up a team and the distance run will increase with the first runner covering 100m, the second and third 200m, and the anchor 300m respectively. Also, for those who can only participate in one thing, we have made it possible for everyone to register directly on APU's main athletic field where the events are taking place. Feel free to drop by and sign up.
MATSUNO Ryosuke (APM 2), a representative of the Physical Education Committee said that he hoped new students and the general public would come to know APU better through participating in the event. "I hope the APU Olympics will continue to include new events and become a regular/traditional event at APU."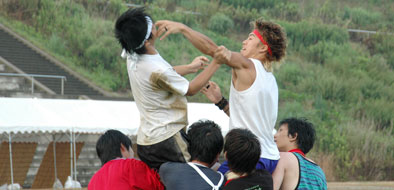 In order for the sports day to be a success, the committee has been working hard to promote the event and during the afternoon of May 9th handed out flyers in front of Beppu Station and Tokiwa Department Store in Beppu. The Committee Members will also appear on live OBS radio on Tuesday, May 10 at 14:00 during which they will highlight some of the events planned for the day. By all means listen in!
APU Olympics is a unique event where people of all ages and nationalities can come together and enjoy trying their hand at different sporting events. We encourage everyone to contribute to make APU Olympics a traditional event at APU.
APU Spring Olympics Schedule
Date & Time:
Saturday, May 14;13:00-19:30
*In the advent of rain, the event will be postponed to Wednesday, May 18
Place:
APU Main Athletic Field
Program:
1. Opening Ceremony
2. Chase the Basket
3. Centipede Relay Race
4. Sweden Relay Race
5. Cheering Battle
6. True vs False
7. Circle Performance 1
8. Big Rope Skipping
9. Steeplechase
10. Circle Performance 2
11. Sweden Relay Race (Final)
12. Piggyback Fight
13. World Champion Relay Race (Final)
14. Tug-of-War
15. Closing Ceremony
16. Barn Dance