On Tuesday, January 13, 2009, the "2008 Special Lecture on Community Development in Beppu & Oita" was held. Taking the form of a relay, speakers at the front line of regional development are invited to give lectures about the current state of the region.






These lectures are held aiming to improve people's understanding of regional development and will be held 3 times in January, including this time, and are open to the public. As a result, there were many locals at the lecture mixed in with the students. At this Special Lecture, Development Bank of Japan Inc, Regional Development Department, Senior Advisor Mr. MOTANI Kousuke gave a lecture under the theme of "Disparities within the Region -Current State and Revitalization Strategy".

Apart from the publication of his "The Regions are Stronger than you Think" article in the Asahi Shimbun Saturday edition "be", every year Mr. MOTANI takes the lectern over 400 times throughout Japan working towards regional activation, so much in fact that he has ridden on all the railways in Japan including JR, private and public lines. Mr. MOTANI appealed to the activation of Oita and Beppu, "from here on, each region, not just the nation, has to put their efforts into their own independent regional brand. You should target the elderly domestic market and mid-upper class Asian market." Mr. MOTANI, a man active at the front line of the Japanese economy & regional revival, gave a passionate and lively lecture.

On Tuesday, January 20, Administrative Director, Global Campus JAPAN, Mr. OKOSO Mitsuru gave a lecture under the title of "Regarding Regional Resources and Guest Exchange Services" and a lecture by Japan Travel Bureau Foundation, Tourism Culture Department, Senior Researcher, Ms KUBOTA Mihoko entitled "Revitalizing Onsen Areas: Local Wisdom Weaves Local Appeal" is planned for Tuesday, January 27.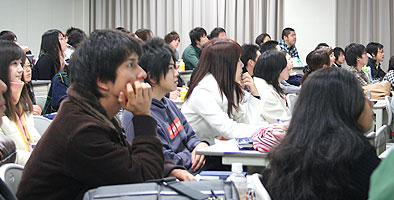 Reporter:KOMINE Kazuya(APM2,Japan)