On Sunday, January 24, 2009, the "2009 Spring Celebration" event was held at the APU Cafeteria to coincide with the celebrations of Chinese New Year (lunar New Year) as part of Sino-Japan cultural exchange.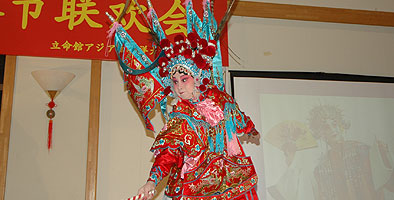 There was plenty of Chinese cuisine on display at the stand-up buffet in the Cafeteria. Members of the APU Confucius Institute Student Executive Committee gave performances of Chinese traditional performing arts such as folk dances, T'ai Chi, Dragon-Lion Dance and a Classical Beijing Opera. There was also a video shown of actual Lunar New Years celebrations in China and scroll pictures and calendars were presented to the crowd.

There was a number of people wearing China-Dresses and a large number people from the general public at the event infused with a Chinese flavor which proved to be a great opportunity to experience Chinese culture through the Chinese cuisine and stage performances.

'Lunar New Year' marks New Year of the old Chinese calendar and is the most important of all days celebrated in China. In comparison to New Years in Japan, the celebrations take place over a few days and on a larger scale not only in China, but also Taiwan and the 'China Towns' throughout the world. Furthermore, the date changes every year based on the old calendar.