Professor SANGA-NGOIE Kazadi, the Dean of International Cooperation & Research, is supporting the construction of a new Primary School in Lubumbashi, the 7th school among Primary, Junior and Senior High Schools built in his home country, the Democratic Republic of the Congo.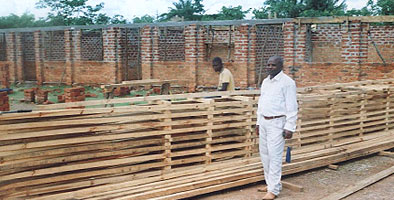 Professor SANGA established the NGO 'SAVE AFRIKA PROJECT' during his time as a graduate student in Kyoto University in 1989, long time ago prior to coming to APU. This was established with the aim of assisting the sustainable self-sufficiency of the rural people in Africa, his homeland the Democratic Republic of the Congo and the surrounding areas. The project, which will this year mark its 20th anniversary, is involved in aid initiatives such as unearthing people understanding towards African aid programs within Japan, agricultural assistance, environmental restoration and conservation activities, educational assistance activities and lifestyle environment improvement projects. Beginning with the reconstruction of the Kayamba Primary School, 5 primary, junior and senior high schools have been constructed, and to date over 2000 students have been enrolled in the 'Complexe Scolaire Sanga' (The SANGA Academy). The project is also involved in a wide range of aid activities such as reforestation, well-boring and agricultural training.

One of the young educational aid recipients who found refuge in the orphanage established by Professor SANGA for street children who have lost their parents through AIDS or conflicts is supervising the construction of the Lubumbashi School. Furthermore, Professor SANGA is also actively giving lectures at Japanese high schools about his activities. Student groups who have participated in his lectures and endorsed his activities are spreading the word of the 'Save Afrika Project' on their school campuses and are involved in aid activities. In such a way, Professor SANGA is expanding the activities of the project at the grass-roots level.

Professor SANGA's ultimate goal is Africa's sustainable self-sufficiency. He also hopes to develop the Africa of the future by nurturing excellent human resources. He is aiming to create a win-win relationship for Japan and Africa through the mutual use of Japan's education and advanced technology and Africa's abundant energy resources, not just a one-way donor-receiver relationship.
Finally, Professor SANGA would like to express his heartfelt thanks to all the Japanese friends who have been giving support to this educational endeavor.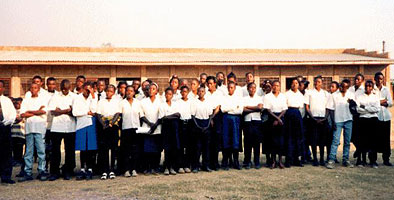 Profile, Professor SANGA-NGOIE Kazadi
Born: The Democratic Republic of the Congo
1989:Doctor of Sciences (D.Sc., Geophysics)
Graduate School of Sciences Kyoto University
1993-:Associate Professor, Professor Mie University, Mie Graduate School
2007-:Professor, Ritsumeikan Asia Pacific University
2008/06:Professor Emeritus, Mie University