On Tuesday, January 20, 2009, the Student Circle OASIS (Organization of APU Students and International Societies) held their Second International Conference. The Student Circle OASIS, aiming towards the establishment of Student Council, held the meeting as an opportunity to exchange opinions regarding the state of APU's facilities and lectures. Approximately 50 students including about 40 international students came along to the lively discussion.




Leading up to the conference, a questionnaire targeting international students was undertaken regarding their campus life in late December last year and these discussions were based on the results. The participants actively exchanged their opinions is what became a heated discussion, "the standard of lectures should be raised higher", "since we have so many people of different nationalities, I want to create more opportunities for exchange".

Having summed up the opinions raised at the conference, OASIS is planning to be reborn this spring as an independent organization (not a Student Circle) as the International Bureau, a forerunner to a Student Council. OASIS have begun working towards holding an International Conference in which even more students, APU Faculty members and members of the Beppu public can participate in.

OASIS began in autumn 2005 with the view to establishing a Student Council under the philosophy of "Making an even richer campus by utilizing the international flavor of APU". Throughout the year they have been involved in events on and off campus such as providing management support for the Multicultural Weeks and participating in the "Making Friends Plan" voluntary activities at the 2008 National Sports Day for the Disabled. The student voice is their driving force as they work every day towards the realization of an ideal APU life.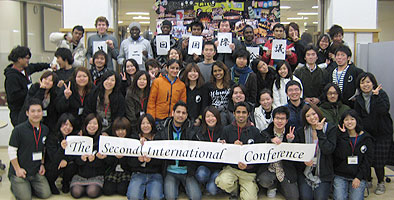 Reporter: KOMORI Midori (APS1, Japan)