連携事業|講演・シンポジウム
Jan 29, 2009
On Thursday, January 22, 2009, the "Fourth Local Networking Meeting with Ambassadors" was held at the Ritsumeikan Tokyo Campus through the cooperation of the Cabinet Office and the Ministry of Foreign Affairs. This is the 4th out of a total of 5 meetings which each target a different region. This meeting welcomed ambassadors and representatives from West and Central Asian countries.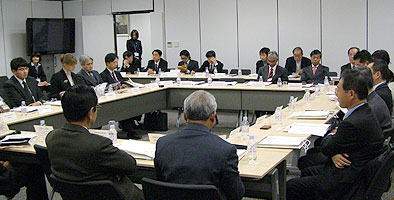 Four ambassadors, 1 envoy and 2 secretaries participated in the meeting in addition to Cabinet Office officials, university representatives and municipal representatives such as mayors.

After a few words of greeting from APU President Monte CASSIM, Deputy Secretary-General, Regional Revitalization Bureau, Cabinet Secretary, Government of Japan Mr. UENISHI Yasufumi and WATANABE Naoyoshi, Mayor, Minokamo City, Gifu Prefecture gave a few words.

Following this, the attending ambassadors spoke of their countries relationship with Japan and gave their opinions regarding regional revitalization. H. E. Genesh Yonzan TAMANG, Ambassador Extraordinary and Plenipotentiary of the Federal Republic of Nepal said, "We currently have over 3000 students studying in Japan of which 36 are at APU. I hope that the friendly cooperative relationship that my country has with APU continues and that we have more students studying at APU in the future."

After that, there was a light meal for the participants who moved to the mutual exchange meeting. At the exchange meeting local specialties of the participating municipalities were served such as apple juice from Nagano Prefecture and Fuyu Persimmons from Minokamo City.

APU has established the Advisory Committee from which it receives a great deal of support. In addition to members of the Japanese government and financial circles, ambassadors to Japan from 77 countries and regions are currently participating in the committee. They provide us with great support in global human resource development such as giving lectures for students at APU and dispatching outstanding students from their home countries.

The Local Networking Meetings with Ambassadors will be held until February next year under the main theme of "Second track diplomacy by regions and the public centering on education, tourism and international exchange". APU becomes an international bridge by inviting various ambassadors to Japan and member of local municipalities and is promoting exchange at a grass roots level. It is deepening its network which will lead to international cooperation focusing on regional activation and human resource development.