On Wednesday, January 28, 2009, SUZUKI Toshie, WANJOHI Mary Wangari and APU Traidat were awarded at the New Year Celebration meeting for faculty staff. This Celebration is held to recognize and praise the successes of AY2008.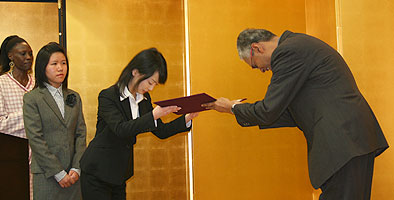 Dean of Student Affairs, Professor YOKOYAMA Kenji introduced the commendable activities of Ms. WANJOHI and APU Traidat to the crowd (Ms. SUZUKI was unable to attend due to a performance outside of the prefecture). After receiving their certificates from President CASSIM, the students received a warm applause from those in attendance.

APU Traidat looked at the negative legacy of the damage cased by use of Agent Orange during the Vietnam War. They are also working towards forming an international student network, holding workshops about the damage of Agent Orange and holding exhibitions in Japanese and Vietnamese universities regarding the Vietnam War and Agent Orange damage. APU Traidat was adopted by the "Asian Neighbors Network Program", an AY2008 Toyota Foundation Grant Program. This is the first such adoption for APU undergraduate students.

Ms. WANJOHI not only appeared in and won in fine form her 3rd 77th All-Japan Collegiate Athletics Championship Emperor's Trophy held in September, 2008, at the National Stadium in Tokyo, she is also an active member of the APU Women's Athletic Team such as her massive contribution the their 5th consecutive victory at the "Kyushu Intercollegiate Road Race". She is also the current holder of the 5000m Japan Student Record with a time of 15:13.09.

Ms. SUZUKI placed first and received the Minister of Education, Culture, Sports, Science and Technology Prize at the National Tsugaru-Jamisen Competition in KOBE held on Sunday, October 12, 2008. She turned professional after her graduation and continues to perform around the country.