On the first day of Korean Week, Monday May 9, the Korean Ambassador to Japan, Mr. Ra Jong-Yil held a special lecture at APU during Professor YOSHIMATSU Hidetaka's 'Introduction to Political ScienceEA' class.Discussing the topic 'Perspective of Northeast Asian Community,' the ambassador explained that when trying to create a unified Northeast Asian community, including such countries and regions as Siberia, Mongolia and North Korea, it was necessary to outline clear goals and take into consideration the future wellbeing of the indigenous people and their demands.
Approximately 300 students participated in the presentation and had the opportunity to ask a variety of questions. An Indonesian student asked the ambassador what he thought of relations between Korea and Southeast Asia. The ambassador responded that a formal collaboration between countries in East Asia would go a long way in building stronger relations in the whole of Asia and assist in solving some of the problems that currently exist in Northeast Asia.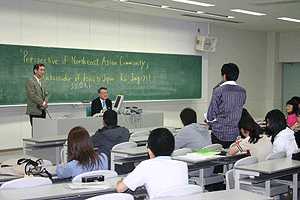 Questions and opinions were enthusiastically exchanged and the importance of building strong relations between the East Asian nations was a recurring theme. A Sri Lankan student commented that she had been studying about these current issues and found it very productive to take part in the presentation and gain new insights in the process. She expressed her hopes for the normalization talks to continue and thus eventually contribute to the realization of a united Northeast Asian community.
A Japanese student added that it was good to participate in a practical lecture conducted by someone who works for the government in Asia, and that it was a good medium to learn about politics. A view also supported by Professor Yoshimatsu who said it was a great opportunity for students to think about how to overcome the difficulties of international relations and how to go about establishing a united community.
After the lecture, students from Korea and those who have a strong interest in Korea gathered for an informal gathering for discussion with the ambassador. The ambassador's advice to students during their time at University was to read many books and acquire language skills. Also, in regards to Japan-Korea relations the students were told that it would be more effective to promote exchange at the community level rather than to try and settle things at the political level. The ambassador was pleased to be able to give a lecture on the first day of Korean Week, and the informal talks turned out to be very constructive.