On Monday, February 16, 2009, an Islamic Finance Symposium was held at the Tokyo Station Conference Room, Sapia Tower 5F under the title of "Islamic Finance and the Financial Crisis". The symposium invited Dr. Mohammad Umer CHAPRA, a research advisor of The Islamic Development Bank & Islamic Research and Training Institute Counsel and the foremost figure in Islamic economics and finance in Saudi Arabia.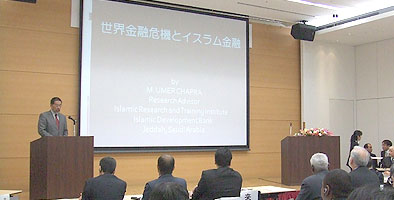 The symposium, which was held within the context of an increasing Japanese interest in Islamic finance, was held as part of the MEXT "News Responsive Regional Research Promotion Program for the World" and aims to provide various circles in Japan with accurate knowledge and information about the Islamic financial systems which are said to possess a resistance to the current financial crisis. This symposium was held through the support of the Royal Embassy of Saudi Arabia Tokyo and Nikkei Inc. Also in attendance was H. E. Mr. Faisal Bin Hassan Bin Ahmed Trad of the Royal Embassy of Saudi Arabia in Japan.

During his key-note lecture APM Professor MUTO Koji said, "The previously prosperous Malaysian real economy has begun to feel the impact of the current financial crisis. We can say that the true value of Islamic finance as a system will be called into question this year. As Malaysia has experienced the economic crisis of 97 and 98, we can expect that they will make use of these experiences to overcome the current crisis."

Furthermore, Dr. CHAPRA made the following comment, "This financial crisis is the result of swollen financial monetary assets. In reality, the financial monetary assets which had swollen to 10 times the size of the GDP of the entire world didn't exist and is a result of people thinking that they could utilize methods to avoid the risks. In this way they failed to use logical value judgment. Current reflections are dealing with a strengthening of regulations but this doesn't raise people's morals and the loss of economic strength becomes a past experience. Islamic finance is not only materially rich; it aims for stable development in harmony with a society based on family. In Islamic finance, financial markets don't become enlarged out of proportion as funds for sales and lease deals must actually exist. The basic cause of the sub-prime problem was that banks were lending money to high-risk, low-income earners at a high interest rate and to high-income earners at a low rate when in fact the opposite is more desirable. Islamic finance instead lends funds to poor people at a low rate of interest so that they also can do business."

There were approximately 150 people from the general public in attendance at the symposium who posed some very good questions and increased their interest in the Islamic financial system.