From Thursday February 19 till Monday 23, 2009, the "East Asia Peace and Human Rights Camp" was held in Kyoto City and was set in historical Japan-Korean sites. This camp provides the opportunity for students from both countries to exchange opinions and think about peace and human rights. Eight members from the APU East Asia Peace and Human Rights Camp Student Club participated.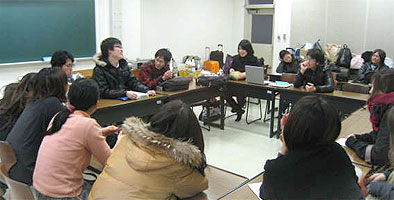 This, the 14th East Asia Peace and Human Rights Camp was held under the theme of first-hand learning about peace and human rights and aims to promote mutual understanding. In this camp, students of different nationalities visit numerous Japan-Korean sites and experience history through the lectures and fieldwork, and exchange opinions with the people who work on-site. It is hoped that this will provide an opportunity for the students to learn together about peace and human rights. This event was planned and run by university students from Japan and Korea such as Ritsumeikan University, APU, Seoul National University, Chonnam University and Cheju National University. To date there have also been visits to Japanese-Korean historical sites such as in Seoul, Okinawa and on Cheju Island.

Approximately 70 people participated in this camp under the theme of "Korean feeling, knowledge and though in Japan". They listened to a lecture from Koreans in Japan, did field work in 'Osaka Korea-Town', visited a Korean school and also the memorial at the Tanba-Mangan mine where they learned about the forced labor which took place there. The different universities which took part also gave presentations on the theme of "Japanese-resident Koreans". The participating students spoke of their increased interest in this problem "close to home" and also of the "problems in the system". The group discussed the feelings of discrimination that both Japanese and Koreans have towards these issues.

One of the camp participants, NAKAJIMA Yui (APM2, Japan) spoke of his new resolve towards peace, "Through learning a lot about the very contentious issue of Koreans in Japan while on this camp, I was able to realize the importance of knowing the 'true history' –that which isn't included in textbooks. Through learning from Japanese, Korean and Japanese-resident Korean students at this camp I was able to see the importance of learning first hand the necessity of facing up to and thinking about the issues, and of the importance of listening to and frankly discussing each other thoughts."

This camp began its activities in 2002 after a trip to Korea in 2000. In February 2008, APU students planned and managed a camped based in the Kyushu area under the theme of forced movement and labor. This camp visited sites such as the Chikuhou Coalfield and history museum, the Muenbochi cemetery and the only other city besides Hiroshima to have experienced an atomic bomb, Nagasaki.
The APU Student Club East Asia Peace and Human Rights Camp will continue to hold camps which look at the various Japan-Korea issues.