On Friday March 6, 2009, the Institute of Developing Economics Advanced School (IDEAS) held a lecture about the "One Village, One Product (OVOP)" at the request of the Economic Research Institute for ASEAN on East Asia (ERIA) for administrators from Cambodia, Laos, Myanmar and Vietnam. The aim of the lecture was to deepen their understanding of Japanese development.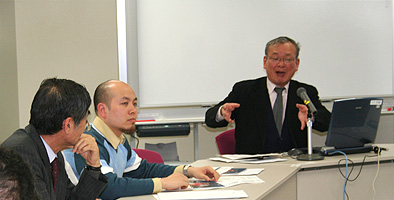 The participants took part in this lecture as part of a short training program to improve their ability to raise their economies. They also did field studies around Oita Prefecture.

The lecture was given by Professor YAMAGAMI Susumu and the lecture was based on his research of the One Village One Product movement.

He explained the basic philosophy and concept of the One Village One Product movement and raised the example of Oyama Village. He said, "Oyama Village is a good example of small village development because it made use the advantages of the village. Oyama was assigned to harvest rice by the Japanese government but the people of Oyama knew they could not succeed with rice because their environment was not suitable. So they started to harvest plums and chestnuts which were far more suitable to their mountain environment. I hope you can develop your region by taking Oyama Village as a good example."

After the lecture, a listener asked the lecturer about his motivation to do research on Oyama Village and what he gained from his research to which he answered, "I was interested in Oyama village because they took advantage of their region and succeeded. They pursued diversity because they were faced with difficulty. Also, I learned that we should have an understanding of our own region to make development we can be proud of."

One of the listeners, Thway Thway Chit from Miyanmar, said "I gained a lot of knowledge from the lecture and it was easy for me to understand because I visited Oyama Village before the lecture. In my country, the government is widely encouraging the One Village One Product movement. I think we need to find suitable products which take into consideration the special features of the region."

During their stay in Oita they experienced Japanese industrial development with the aim of developing their own country by utilizing the knowledge and experience gained from this program.
Reporter: Student Press Assistant (SPA) PARK Songyi (APM2, Korea)