講演・シンポジウム|来学者
Mar 19, 2009
On Tuesday March 17, 2009, thirteen faculty staff from the Kingdom of Thailand centering on Khon Kaen University visited APU to learn about the community development underway in Japan and the One Village One Product Movement.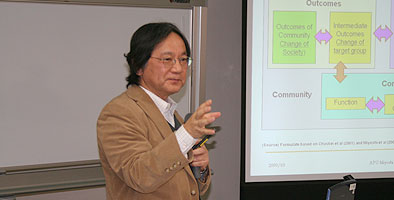 APS Professor MIYOSHI and WACHOWSKI Cindy Lyn (GSAD, America) gave a presentation to the group under the title of "Developing Community Capacity for Rural Development: An Alternative Approach for Rural People" (joint research with STENNING Naomi (GSAD, Australia)) which looked at the success story of Oyama-machi.

Through assimilating the ideas of the One Village One Product movement, the people of Oyama were able to transform their village from being the poorest village in the prefecture into one with a stable income and the highest per capita agricultural income.




During their lecture Professor MIYOSHI spoke of the importance of leadership in the early stages of their development.

"You need leadership and community support to get everyone focused and working together through hardships and mishaps."

"It turns out that some of the plum trees the community purchased were not fruit-bearing trees and since these trees take 3 years get to the fruit-bearing stage, people were very annoyed when after 3 years they saw no plums. Leadership and focus got the community through this setback."

At the end of the lecture, Khon Kaen University Associate Professor and Vice President for Research and Technology Transfer Affairs Kittichai Triratanasirichai presented Professor MIYOSHI with a traditional Thai pot which is one of the local One Village One Product goods of the Khon Kaen region.