On Friday, March 13, 2009, three graduates sent a message to the current students as representatives of the graduate student body.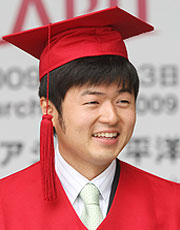 HOSOKAWA Hirotsugu (APM, Japan)
I was able to learn a lot from the people of the region by getting involved in the joint planning and running of the SENTO TAISAI Festival with the people of Beppu City, the region and APU. From April I will be involved in the travel industry and I hope to maintain links to Oita Prefecture and the people of Beppu City and also get involved in activities through which I can make a contribution to the new region I will be in. I ask you to get enthusiastically involved in whatever it is you are interested in and make the most of your time so you will be able to say that you achieved what you set out to do. Also, please get actively involved in exchange with the region, broaden your world and deepen your understanding of Beppu City.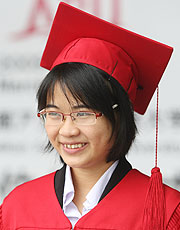 HUYNH Phuong Minh(APM,Vietnam)
APU is one of the most exciting places I have ever been to. If you really enjoy your life here you will be able to realize something totally new. The most impressive thing about APU was that the students are very dynamic and ambitious. At APU I learned to try my best in whatever I get involved in. If you try your best, something very exciting will happen to you which will last for the rest of your life. Please do your best and enjoy your time at APU.







CHAKRABORTY Abhik (GSAM,India)
I learned that there are so many opinions in the world and that they are neither right nor wrong –they are simply different. Eighty seven different nationalities are represented in this university and students have lots of different stand points so I think that people who come to APU should have an open mind and accept different opinions. These days we have many problems which are particularly caused by the lack of understanding between people. These problems can be solved by studying at APU. It is a very unique university so I ask you to make the most of your university life here.