On Thursday, May 12, the French Ambassador to Japan, Mr. Bernard de MONTFERRAND gave a presentation during Professor KO Yiu Chung's "Studies of Social Mobility EA" class.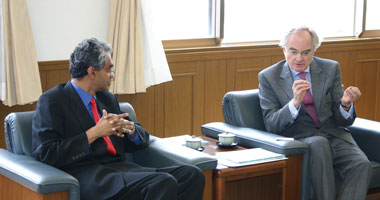 The French Ambassador focused his lecture on the topic of "French Foreign Policy: Building a More Efficient International Society" and discussed ways in which this can be achieved. He drew on the example of relations between France and Germany and how they have been able to work through the past through forward-thinking initiatives such as the joint writing of text-books and through mutual exchange programs.
In commenting about relations between France and Japan he mentioned the presence of over 500 French companies in Japan and how the Renault and Nissan merger was a good example of innovative ways to conduct business. He also spoke about the importance of both nations discussing the big issues of the world and how they can strive to appease current situations.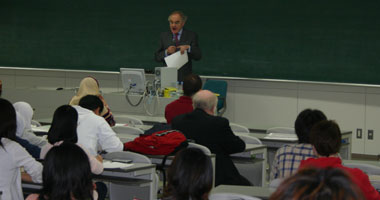 During the question and answer segment, a student asked the Ambassador to comment on current French and German relations after observing a joint space at the Expo 2005 in Aichi prefecture. The Ambassador used the river Rhine to illustrate his sentiments and said that it was once a symbol of hostility but it was now recognized as a symbol of unity. The Ambassador attributed the closer relations, 60 years after the war, down to political will and the forward thinking of both nations. He also considered youth exchange programs were integral to deepening mutual understanding.
Students asked the Ambassador many questions about the lecture theme and current topics and he thoughtfully responded to each one.