ON Saturday, March 28, 2009, approximately 300 people came along to APU for the last Open Campus for AY2008 which was held for high school students, their parents/guardians and teaching staff.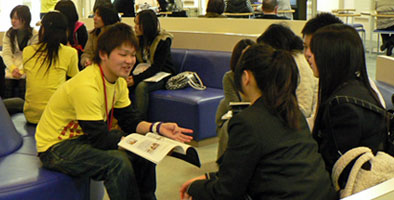 There was a range of events at the Open Campus including an APU introduction and admissions session, and lectures looking at "how to improve your short essays" and "how to get over 80% in the National Center Test for University Admissions" delivered by lecturers invited from well-known cramming schools. Those who came along gained some practical advice from individual consultations with faculty staff and current students and examination advice from professional examination advisors.

They were also able to taste the plentiful array of Vietnamese and Indonesian (etc) food on display at the Cafeteria and experience the multicultural and multilingual APU environment as they watched the internationally flavored traditional dances of APU students and viewed the campus and AP House (student dormitory).

Amongst all of this, they were able to enjoy exchanging with international students in the shared rooms in which they spend their lives and were able to build up their expectations of the unique APU multicultural campus.

The Global Admissions Student Staff (GASS) student staff provide their assistance in the various events of the Open Campus and pass on to the students heading towards entrance examinations and their parents/guardians the appeal of APU from a student's perspective.

The Open Campuses for AY2009 are scheduled to be held on the following dates. This year too we will be holding a range of colorful events and practical lectures for entrance examinations. They are a valuable opportunity to experience the multicultural and multilingual environment of APU. On behalf of all faculty staff and GASS staff, we hope that you all come along!
Teaching staff and parents/guardians are also more than welcome to come along.

The Schedule for AY2009 Open Campuses:
(1st) July 20 (Marine Day)
(2nd) August 8 (Sat)
(3rd) August 9 (Sun)
(4th) October 24 (Sat) "Tenku" Festival
(5th) March 27, 2010 (Sat)
We will be providing specially priced bus and ferry tickets for those participants who will be traveling long distances. Be sure to take advantage of this offer. (Please be aware that you will need to register and there only a limited number of seats)
For more details on the Open Campuses, please here (APU mate.net) for more details:

For other inquiries about application forms and admissions or campus inspections, please feel free to contact the Admissions Office on (Domestic) TEL: 0977-78-1120. Inquires can be make on weekdays from 9:00am till 5:30pm.