On Saturday, April 4, 2009, APU and Zhejiang Province Hangzhou Foreign Language School concluded an agreement on the establishment of an "APU Admission Class" as of September 2009.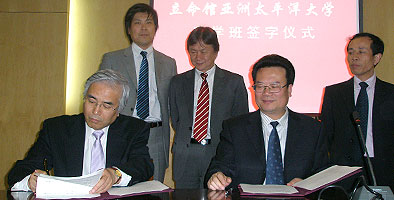 Representing APU, Vice President KORENAGA Shun and Dean of Admissions YAMAMOTO Susumu attended the agreement ceremony which took place at the Hangzhou Foreign Language School.

The APU Admissions Class will be made available in September 2009 for Hangzhou Foreign Language School students who upon completing their 2nd year (June) wish to be admitted into APU. APU will begin accepting the first batch of students in September 2010.

Hangzhou Foreign Language School is one of the seventeen foreign language schools which are granted by the Chinese National Ministry of Education in 2001 the right to send 20% of their graduates to university exempt from the national university entrance examinations. The university admission rate is 100% and many students have been admitted into renowned overseas universities such as Harvard, Cambridge and Oxford University through utilizing its uniqueness as a foreign language school.

APU has been accepting graduates from this school since AY2002 and there are currently 74 students at, or have graduated, APU.

This is the second such Admission agreement after the agreement (15 students per year) reached with Tianjin NO.2 Middle School.

Also, the APU/Ritsumeikan Course was established at Iwata Secondary School in April 2008 and APU teaching staff have been holding lectures at the school once a week.

The APU Courses in both China and Japan provide meaningful education programs and satisfy the students'keen desire to study.